One-Third of Americans Use Phone Apps Before Leaving Bed
Smartphones allow consumers to check the Internet whenever they have the impulse -- and they have it the moment they wake up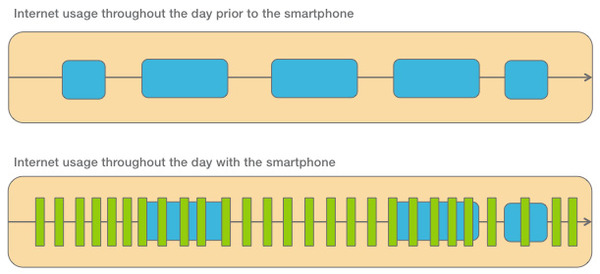 What's the first thing you did when you woke up this morning? If you're a smartphone owner, then about one-third of you -- if you're a representative sample -- picked up your Android-based phone or iPhone and logged in to one of the many apps you've installed. While cellphones have long doubled as alarm clocks for many owners, a new survey out from Ericsson ConsumerLab found that 35 percent of smartphone owners in the U.S. open up a non-voice application before removing the covers.
Checking Facebook is the most common activity, with 18 percent of social networking users logging in to their personal accounts "while their heads are still on the pillow," according to the 18-month survey (PDF). "Apps for news, weather and even Craigslist are all becoming a part of the morning routine for U.S. smartphone users," the survey found. "After getting out of bed, among those who use such services, 23 percent access the Internet via their browsers, and 24 percent check their mail."
The Ericsson survey includes a portion of the response from Sean, a 16-year-old male who is clearly meant to represent the typical American teenager:
When I get up, I turn off the alarm on my phone. I set it for 6:25 every morning. So I get up and turn that off. Then I check my email, clear all the emails from the morning. I usually make about two phone calls in the morning, one to my mom and one to my grandma. I usually check the Internet, like Facebook.
Sean's mom, when she was a 16-year-old student, would have been able to call her own mom every morning from bed -- but she probably would have had to use a landline, and one that she wouldn't be able to use to also check her email.
Thanks to smartphones, consumers are able to carry the Internet around with them. Before the iPhone and its competitors saturated the market, Internet activity was limited to chunks, or those blocks of time throughout the day when individuals were able to find a computer to sit down in front of. "In contrast, smartphones allows people to go online the very instant they get the impulse," Ericsson found. And people, at least those in the United States, get the impulse the very minute they're roused by the beeping of an alarm.
Image: Ericsson ConsumerLab.