Old, Weird Tech: The Penguincubator, a Book Vending Machine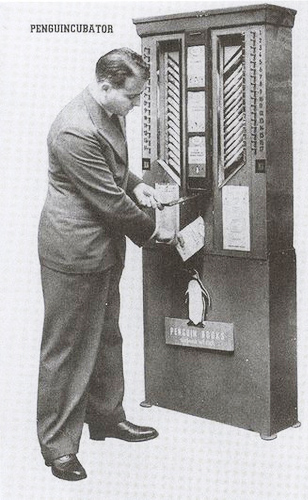 In our discussions about the future of books, it is easy to focus on the production of the book as an object. Somehow when we talk about e-books, we end talking only about Gutenberg and printing, when the biggest changes are about brick-and-mortar stores and distribution. Literature, as an industry, has been dominated by its adherence to traditional distribution schemes, moved as a product like bags of cashews or detergent or cardboard. Books came out of factories, got packed into boxes, and loaded onto trucks, which drove across the country and delivered them to stores. Or at least that's how it seemed to go in the pre-digital age.
Which is one reason that the Penguincubator is so interesting. As recently described by publisher and author James Bridle, this book vending machine was created by the selfsame man who perfected the cheap paperback.
"Lane's other invention, alongside the cheap, quality paperback, was the Penguincubator, first installed outside Henderson's (the "Bomb Shop") at 66 Charing Cross Road," Bridle writes. The book vending machine "signaled his intention to take the book beyond the library and the traditional bookstore, into railway stations, chain stores and onto the streets."
To me, it's no surprise that the guy who thought differently about what a book was would also see that there were new possibilities in how books would get distributed. Bridle continues:
In the Penguincubator we see several desires converge: affordable books, non-traditional distribution, awareness of context, and a quiet radicalism. And it's not a huge leap of the imagination to see how these apply now.. And slowly -- oh, so slowly -- publishers are seeing that what we are presented with is not the death of everything we trust, value and hold dear, but a similar widening vista of opportunity to that which arrived with the mass-market paperback.

From my perspective as an author, what's most important about e-books new types of books will get written and sold precisely because they're distributed differently, with all the new limits and possibilities that entails. You're already seeing this with The Atavist, The Byliner, and Cursor/Red Lemonade. And from what I hear, it seems like every third writer is working on a project that will accelerate that process.