Old, Weird Tech: Fascist Italy's Mechanized Horse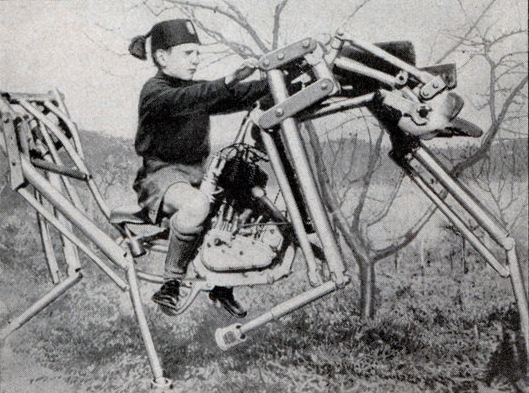 Little is known about the origins of the Iron Dobbin, the product of an Italian inventor which first appeared in the
April 1933 issue
of
Popular Science
as "the mechanical horse that trots and gallops on steel piped legs, under the impulse of a gasoline engine."
With this horse, he declares, children may be trained to ride. The iron Dobbin is said to canter along a road or across a rough field with equal ease. Its design recalls the attempts of inventors, before the day of the automobile, to imitate nature and produce a mechanical steed capable of drawing a wagon.
The Italian military considered putting the vehicle into limited production to train the children of the Gioventù Italiana Littorio (Italian Fascist Youth Movement) to ride, but the military deemed it impractical. The Iron Dobbin was also rejected as a replacement for mountain troop donkeys. After seeing the above image in Popular Science, the German military drew up plans for their version to be named the Panzerpferd (Tank Horse) for their Gebirgsjaeger troops, who equally rejected that idea.
This amateur animation by
Margarita Angel
envisions the Iron Dobbin in action:
Image: Popular Science