Meet a Gargantuan Wind Turbine, the 7-Megawatt V164
You could fit the entire infield and outfield of Yankee stadium inside the area that this enormous machine sweeps. Twice!
You could fit the entire infield and outfield of Yankee stadium inside the area that this enormous machine sweeps. Twice!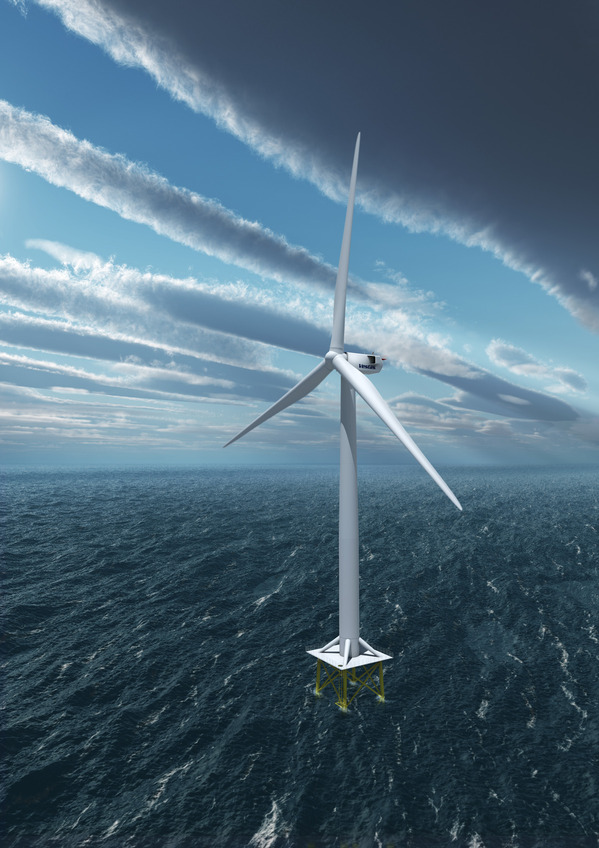 You know those manly shows on television that highlight supersized equipment and the grimy, muscled guys that operate them? Discovery Channel's Mega Machines and Build It Bigger and History Channel's Modern Marvels come to mind. Well, those shows rarely do episodes on renewable energy.
It might be time for that to change. The V164-7.0 machine from Vestas Wind Systems, where I worked until last year, would be a great candidate for any Big Engineering show. Wind turbines have been getting bigger for decades, but this machine, designed specifically for offshore locations, dwarfs even today's two-megawatt and three-megawatt turbines.
The 164-meter (538-foot) rotor is enormous. By comparison, the Washington Monument is 169 meters tall, and was the tallest building in the world when completed in 1884. Four 747s parked nose to nose would easily fit inside its massive swept area of 21,124 square meters. Or for baseball fans: you could fit the entire infield and outfield of Yankee stadium inside this rotor. Twice.
The annual output of the V164 is estimated to be 30,000 megawatt-hours, which is roughly equivalent to 2,787 households' electricity consumption.
This is all very different from the small-scale beginnings of the wind industry. In 1979, Vestas' first turbine was the V10-30kW model, which produced about 40,000 kWh. That is to say, the V164 is expected to produce 750 times as much energy as the V10.
Another way of looking at this is to consider Altamont Pass, Calif., the world's largest wind farm with over 5,000 turbines when it was built in the 1980s. The entire combined annual energy production of Altamont is 1.1 TWh. The citizens of California could get the same amount of energy from just 36 of the new turbines. Thirty-six machines would replace 5,000.
Target: Northern Europe
But the V164 is not likely to be serving the needs of Californians or any other Americans any time soon. It is aimed squarely at the British, German and other Northern European markets. While American policy makers dither about what to do with renewables, which (ironically) many see as "small scale," our British cousins are moving forward at full steam.
The U.K. is already number one in the world in wind energy capacity with over 1,300 MW installed and another 1,100 MW under construction. But this is just the beginning. The government's policy is to meet 20 percent of its electrical needs with wind by 2020, and about 35 percent with wind by 2030. The Crown Estate Round 3 and Scottish waters projects, if they succeed in adding another 38,000 MW in the coming years, will enable Britain to reach or surpass this target.
The scale of these offshore projects is mind-boggling. There is a single project in Crown Estate 3, in the zone of Norfolk Bank and known as the East Anglia Array, which is planned to be 7,200 MW. Even if they use the V164, this project would require 1,028 machines, and it would supply enough energy for nearly three million households.
By comparison, a typical nuclear power plant is 1,000 MW and the largest coal-fired power plant in the world, Nanticoke Generating Station, in Ontario, Canada, puts a maximum of 3,640 MW. Even allowing for differences in capacity factor (i.e., the wind does not blow all the time), the East Anglia Array will dwarf almost all conventional power plants.
Needless to say, such an undertaking will cost a lot of money and will bring with it a great deal of risk. How did our normally conservative British cousins (and they have a Conservative government at the moment) come to radical idea of relying on offshore wind as their number one energy option in the coming decades?
Two years ago, it was anything but clear. Some argued that nuclear was the best option; others argued for onshore wind or other options. But in the national conversation about Britain's energy future, it became clear to the majority that as North Sea oil and gas fade away, the best option was to replace North Sea oil and gas with North Sea wind -- domestic, clean and job-producing.
In fact, this last point, often overlooked, may be the most important of all. Britain is quickly becoming the global center of knowledge for offshore wind: blade technology, testing labs, tower factories, gearbox factories, generators, erecting ships, cable-laying vessels, port facilities. Many thousands of high-end jobs will be created -- and ultimately, an export industry as well.
How far can renewable energy go? It is hard to foresee the precise path of development, to determine how much of the energy pie clean technologies such as wind, solar and others will claim in the coming decades. But one thing is clear: the next time you read that renewable energy is "stuck at small scale" -- don't believe it!
Image: Vestas Wind Systems.