Meanwhile, the Disaster at Fukushima Continues
One of the Japanese nuclear reactors experienced a total meltdown, but we're only finding out two months after the accident
One of the Japanese nuclear reactors experienced a total meltdown, but we're only finding out two months after the accident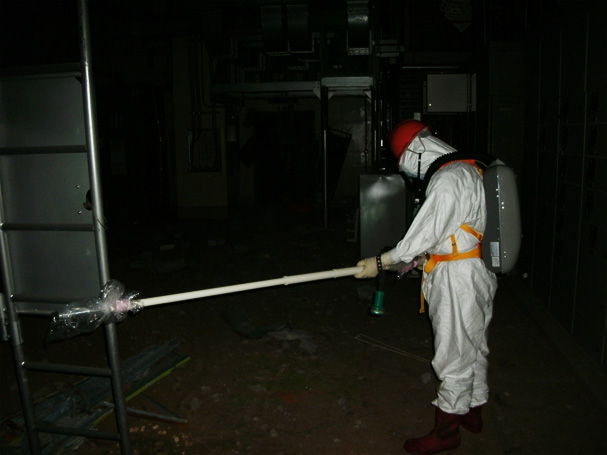 The No. 1 nuclear reactor at Fukushima Daiichi melted down in the first day after the massive quake and tsunami cut power to the plant, the Tokyo Electric Power Company admitted Sunday.
As Nature News' Geoff Brumfiel reports, workers went into the unit recently "to recalibrate some of the sensors on the reactor." Much to their surprise and dismay, they found that the core experienced a total meltdown. The zirconium alloy tubes that hold the uranium fuel pellets during normal operation all warped and the uranium is now lying at the bottom of the pressure vessel, or possibly even outside of it in the basement below or outside the concrete containment building. With all the fuel piled up at the bottom, there is some danger that the nuclear reaction could have restarted. As of now, engineers on the scene aren't sure what happened.
The revelation that the reactor experienced a total meltdown doesn't change the situation at Fukushima that much. The temperatures inside the reactor now appear to be low enough that whatever happened to the fuel is not continuing. The same cooling and cleanup operations must happen.
But what the information does highlight is that when a nuclear reactor gets damaged, the people in charge have to make a lot of decisions with imperfect information. The scary thing about a nuclear disaster like this is that here we are two months later and new (and very important) news about what happened is still coming out.
The same thing actually happened at Three Mile Island, where eight months after the accident, an Oak Ridge National Laboratory scientist declared, "Little, if any, fuel melting occurred, even though the reactor core was uncovered. The safety systems functioned reliably." A few years later, robotic sorties into the area revealed that half the core -- not "little, if any" -- had melted down.
When I wrote about Three Mile Island and the data problems they had back in 2009, I hoped that better sensors and great computing power might make it easier to understand a nuclear disaster as it happened. As more information has emerged from Japan, it's clear that no matter how many drones and computer models we throw at a nuclear meltdown, it can still defy our capacity to understand it in real time. And that unknowability has to be incorporated into how we evaluate the risk of nuclear power disasters.
Image: A worker inside the Unit 1 reactor at Fukushima/TEPCO.