It Looks Like You Are Giving a Keynote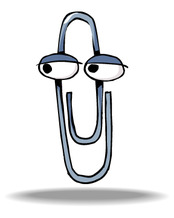 It was inevitable. The more we mock and disdain Clippy, the more he weasels his way back into our lives and conceivably even our hearts. I mentioned last month that Microsoft itself was
bringing Clippy back
as an educational-adventure game character. And, thanks to reader Saul Tannenbaum, here is a
video of a keynote address
given at
ROFLcon
by... the man who created Clippy!
His name is Kevan Atteberry, at left in the shot below, and as you'll see he has mixed feelings about his achievement. Pride at having created such a familiar bit of iconography (and having done so on his Mac); chagrin at how his brainchild is viewed.
This is long, and casual viewers may want to skip to time 32:00 or so and hear Atteberry talk directly about those mixed feelings (plus some political jokes involving Clippy around time 34:00). But anyone who has worked on a design team or endured focus groups to guess at user/consumer reaction will find the whole presentation interesting. Atteberry was a consultant to Microsoft rather than an employee and describes the pressures and incentives from different blocs there.
Mainly it's touching to see how loyal he still is to Clippy.