Is Apple More Popular Than Major League Baseball?
Of course Apple is more profitable than MLB, but it's also managing to get more money out of every visitor that walks in the door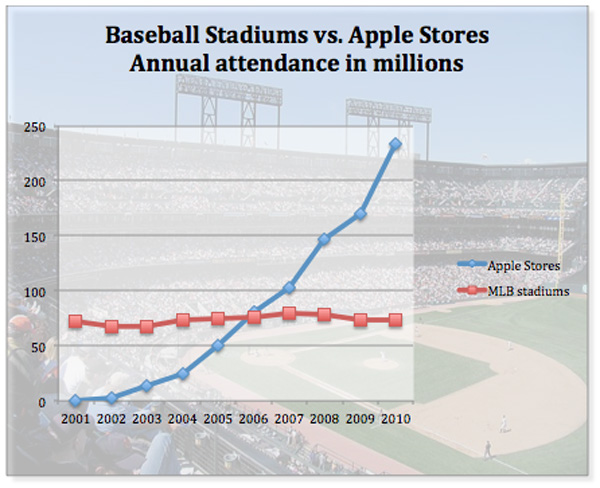 Of course Apple is more profitable than Major League Baseball (MLB). With millions of iPads sold and millions of iPhones sold and millions of laptops and desktops sold -- and, yes, even millions of iPods are still sold -- Apple is moving its products faster than its factories in China can even produce them. Certainly all of these gadgets bring in more money than peanuts -- literally. Apple stores alone are more profitable than America's favorite pastime, accounting for $9.8 billion of Apple's reported $65.2 billion revenue in fiscal year 2010. For comparison, MLB reported $7 billion in revenue.
But comparing sales is only one way to pit the two beasts -- Apple and Major League Baseball -- against one another. There are a dozen ways to measure popularity and the debate the headline of this post dares to start could rage on forever. Until I'm convinced otherwise, I'm awarding the trophy to Steve Jobs and his army of engineers.
A throwaway statistic used in a Business Insider slideshow about mind-blowing Apple facts last month highlights just how popular Apple has become. "71 million people visited Apple's retail stores during the March quarter, which is about same amount of people that paid to attend a Major League Baseball game last season (73 million)," BI's Jay Yarow and Dan Frommer discovered while digging deep into the company's latest earnings report.
Fortune's Philip Elmer-DeWitt picked up that number and carried it a bit further. After doing a bit of research, DeWitt found that attendance at MLB games has remained static over the past decade, whereas foot traffic to Apple stores has soared. The stores, which will turn 10 years old next week, now bring in more than 200 million people every year. (See the chart DeWitt put together using statistics from IFOAppleStore.com and fangraphs.com.) And that number will only continue to grow as Apple finalizes plans for massive retail centers in Moscow and elsewhere.
Sure, not everyone that walks into an Apple store is going to spend money. When someone attends an MLB game, you know that they've purchased a ticket (or had one purchased for them) even if they're able to refrain from purchasing hot dogs and nachos and other foodstuffs during the seventh-inning stretch. But with 233.3 million visitors last year and $9.8 billion in revenue, the Apple stores are still managing to make just over $42 per visitor, which is significantly more than the average ticket price for a game.
Image: Philip Elmer-DeWitt.