How the January 25 Egyptian Revolution Was Organized
This piece is an excerpt from David Wolman's exclusive, riveting account of the digital underpinings of the Egyptian revolution and the activists who risked their lives to help launch it. The full story is available today from The Atavist, for mobile devices, via http://atavist.net/the-instigators/.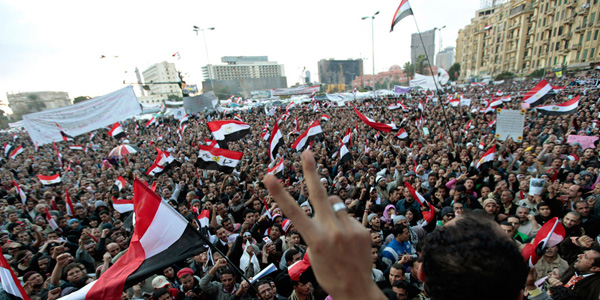 On June 6, 2010, a 28-year-old businessman named Khalid Mohamed Said was seated in a cybercafe in his hometown of Alexandria. According to witness accounts, two local detectives entered the second-floor establishment and began beating him. They slammed his head on a table before the owner told them to take the fighting outside. They pulled Said out to a building entryway where they kicked him and smashed his head against an iron gate until his body went limp.
Official reports of the incident alleged that Said was a drug dealer wanted by police for weapons possession. He died, the authorities claimed, after resisting arrest and trying to swallow a bag of marijuana. But activists were quickly convinced that Said was killed for posting a video showing local police divvying up marijuana they had recently seized. It wasn't just activists, though. People all over the country, many of whom had no interest in politics, were appalled with official explanations they believed to be lies.
After Said's family was called to the morgue to identify his body, a photograph of his horrifically mangled face was posted online. The image was too shocking for young Egyptians not to share. Mohammad Al-Anwar, a 22-year-old medical student from the city of Zagazig, later told me that Said's murder was somehow different from other episodes of torture or murder at the hands of the regime. "Maybe it was because he was a well-known and educated guy with many friends. And the picture. I mean, he was so completely disfigured. I don't know what it was exactly, but it spread like fire." A 24-year-old woman I spoke with in Cairo welled up as she recounted what happened to this man she'd never met. "He was this good-looking guy who by all accounts was liked by everyone." It was painful, another woman told me, to think that Egyptians had let their country devolve into the kind of place where this could happen.
It wasn't the photo alone that was spreading but also a Facebook page erected in Said's honor. A number of online memorials were posted, including one created by members of April 6 Youth, or A6Y, but one in particular became a meeting place for tens of thousands, and soon hundreds of thousands, of Egyptians. A month after the murder, the page had 180,000 fans.# They convened to vent, connect, pay tribute, and, although they may not have realized it at the time, unite. The page was called We Are All Khalid Said, and the title alone spoke to the sense among Egypt's educated (but often unemployed) youth that the corrupt state of the State was now everyone's business.
The person who created We Are All Khalid Said chose to go by the moniker El Shaheed, the Martyr. The page's content was welcoming and interactive, with emotionally forthright conversations and a seemingly limitless string of thought-provoking comments and links. It encouraged visitors to share news, videos, and photographs about injustices suffered at the hands of Mubarak's security forces. And its creator took pains to keep the page as casual and unpolitical as possible, using, for example, the Egyptian Arabic of the streets rather than the classical Arabic usually reserved for writing. The posts were drenched in earnestness:
"We will triumph because we have no agendas, because we don't understand politics and negotiations and the dirty games of give-and-take. We will triumph because our tears are heartfelt, because our love is instinctive, because our dreams are legitimate ... and because hope has now possessed every one of us. We will triumph because Egypt is above all."
A few weeks after the murder, people organized vigils to honor Said. Dressed in black, they gathered by the corniche in Alexandria, facing the Mediterranean, and on the banks of the Nile in Cairo, to observe an hour-long "silent stand." Under a Mubarak-era law, any unsanctioned gathering of more than five people could lead to police custody or jail time. By standing at least 10 feet apart and staring out at the sea, the participants were not, technically, assembling.
Just after midnight on July 8, the mysterious man behind We Are All Khalid Said sent an email to Ahmed Maher using the alias Khalid Said. He began by praising the work of the A6Y:
You and Kefeya were the first people in Egypt to wake up and hopefully, God willing, this awakening will continue and we can do something to change this country because we all have the same goal.
He then complained about a newspaper report crediting A6Y with organizing the silent stands. His objection, he said, arose from the fact that he'd worked hard to use We Are All Khalid Said to "attract many non-political people who do not want to feel that I am a political person, or that this community is part of a political organization." But then he offered the hint of a pledge:
If you would like to, consider me someone who is preparing a generation of young people to join you or anyone else afterwards... I want us to be one hand and to continue each other's work, so that we don't get into conflicts and our positive efforts to change Egypt end up turning negative.
Maher responded immediately, praising "Said" for his mobilization efforts and apologizing for the misinformation in the papers, adding that the error was not the fault of anyone within A6Y. (Egypt's media, at the time, tended to tie any activities conducted by young people to the A6Y.) But Maher also pointed out that A6Y's involvement had helped magnify the demonstrations. And because members of the group had been studying up on strategies for nonviolent protest, they were able to help direct the crowds to minimize conflict with the police. Then he added:
This leads us to an important point: maybe we can have a declaration between us, agreeing to consult, collaborate, and coordinate together, so that young people will not be so scattered and afraid anymore during these protests.
Without coordination, Maher explained, people brave enough to head into the streets often have to return home just as fast, having achieved nothing "because one dumb officer shooed them away like flies."
At 3:13 a.m., "Said" sent a reply. "I can't begin to describe how happy I was when I read your e-mail," he wrote. He appreciated that Maher was sensitive to the tone he was striking with the Facebook page. Police brutality, human dignity, freedom--these are universal issues, not political issues. "Said" did not want the agendaless brand of We Are All Khalid Said to be contaminated by an open connection to a political group. Still, Said pointed out,
You have probably noticed how [on the Facebook page] I am gradually moving them away from this fear [of politics] and subtly inserting some political subjects.
The two activists would trade a few more brief emails; Maher then suggested they continue the dialogue via either Gmail or Yahoo chat. "Said" closed out the exchange:
Anyway, I think we can really help each other and benefit from one another. Our goal is one.

I'll try to be online around midnight.

But I only have Gmail.
While Maher and the pseudonymous organizer continued chatting for months in the online world, offline Maher had found an employer willing to serve as a kind a benefactor. Mamdouh Hamza is a well-known liberal activist in Cairo and the owner of Hamza Associates, a major architecture and engineering firm behind famous projects like the new Library of Alexandria. A friend had told Hamza about Maher's job troubles. "I hired him without an interview," Hamza told me later. "I was determined to protect this young man."
The steady paycheck meant Maher could focus on plotting. On December 30, 2010, "Said" wrote Maher in a chat session, suggesting that they "collaborate on a crazy idea":
Maher: Oh really? Crazy people are the ones that create change.
Said: January 25th is "Police Day." We want to celebrate it.
Maher: Cool.
Said: [Showcasing] positive examples and negative examples of police behavior.
Maher: We celebrated it last year.
Said: Really? Send me any links so I can see what you did.
They conferred about what kind of demonstration to conduct, and Maher reiterated the idea that the police were especially "pissed off" to have to work on Police Day. Said wrote back, "I can energize people to participate." But he needed Maher's expertise with information dissemination, publicity, and details about how to evade the police. It was soon settled: We Are All Khalid Said would endorse and advertise a January 25 event, while A6Y would coordinate the logistics.
Image: Reuters/Dylan Martinez.