How China's Twitter, Weibo, Became a Dating Platform
Let's say you're a young man at Wuhan Normal University looking for a date. What would you do? You might post your photo, some basic information, and a QQ number to an "Instant Photo" group on Sina Weibo, a 140-million-user strong Chinese microblogging service, according to a post from technology researcher Tricia Wang. Then, the instant photo group would repost that information, allowing others looking around the Wuhan University Singles Rescues to get in touch with you. Simple, easy, and if Wang and Beijing Today are to be believed, the practice has exploded in China.
Here's an example of a posting: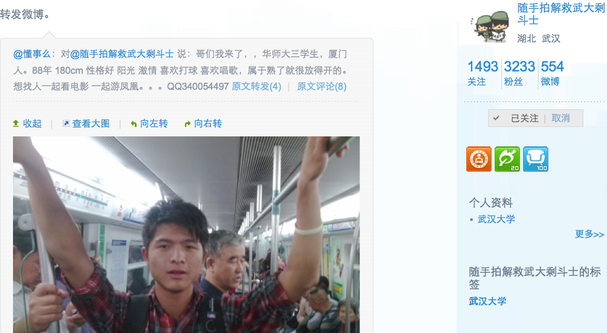 Hey friends, I'm here! Born in 1988, 180cm tall, junior at Wuhan Normal University, from Xiamen. I'm a good person with a fun personality. I like to play basketball and sing. I'm pretty laid-back. I want to find someone to relax with and watch movies.

Wang has a lot to say about the phenomenon, glossing its Chinese cultural context, origins in a child rescue service, and possible implications for what Weibo can be a service. Those details are worth reading.

This also reflects changing norms among younger and older people around love and relationship. Online dating isn't a popular way to meet people; there's still a social stigma attached to it. But many of the people I spoke to said that using Weibo for finding a girl/boy-friend wasn't real online dating and that for them this was a very comfortable way of exploring "possibilities."

I'm fascinated that nothing similar has developed with Twitter. It may be that Twitter is not technologically a good platform for such a thing, as Wang insinuates.
On Weibo, you can have threaded converstaions, track commentary on posts, embed various media formats, view media within the same window, and sort by content type. There are a lot of other features... but this is all to say that communities like these can  develop on Weibo precisely because of its rich features and stable platform. Weibo simply works. There are no fail Weibo jokes.

Last point: one excellent thing about the development of the Chinese Internet is that Americans get to look across the Pacific at something technically like our own tubes, but distinct along many vectors. Let it serve as a reminder that these systems are both contingent (i.e. stuff just happens) and influenced by the culture in which they're implanted.