Hands On With Google's Chromebook: Nice, but Unnecessary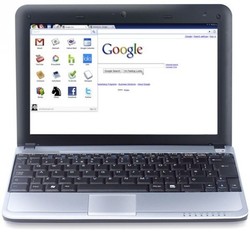 The second day of the Google I/O conference was all about the Chromebook, the search giant's play at the notebook market. Based on the Cr-48 prototype that was distributed to a select group of individuals earlier this year, the notebooks, which will be produced by Samsung and Acer, run on the relatively new Chrome OS. And the OS is about all there is to the new notebooks. Open the lid and the computer powers up almost instantly. Once on, you'll find that the Chromebook doesn't have a typical desktop, but operates entirely through a browser tied to the cloud.
Few have been able to get their hands on the new device for review, resorting, instead, to reposting the press release that Google put out when the notebook was unveiled in San Francisco Wednesday or listing out the specifications (12.1-inch display, 3.26 pounds, 8.5 hours of battery life, etc.). TechCrunch, often first out of the gate with news about the biggest tech players, just posted 17 photographs of the Chromebook with a note. "Initial reaction? That's still to come," MG Siegler wrote. "For now, enjoy a bunch of pictures." More than 1,000 people tweeted that post out to their followers and hundreds more shared it with friends on Facebook.
There's obvious interest around the Chromebook. Two reasons: It's a Google-based laptop. Apple has its army of followers and Google does, too. Until now, they haven't been able to use only Google-branded products. The other reason is an appreciation for Google's unique approach to distributing the notebook, which will be available to businesses for only $28/month and to students at a discount. Google for Business project manager Rajen Sheth "is stressing the three S's: simplicity, security and speed," GigaOm reported. Students and business executives are being encouraged to adopt the Chromebook because any updates to Google programs will occur automatically and can be accessed from any computer. No more need to install programs or driver. No reason to worry about losing files. (Unless Google accidentally deletes them.)
But how does it work? Only a few lucky reporters have been able to get their hands on the Samsung Chromebook Series 5. Here's what they have to say:
Melissa J. Perenson at PCWorld:
I'm not convinced that everyone will want, or even need, a Chromebook. But what I saw so far looks to have promise. And with pricing for Samsung's models starting at $430 for the Wi-Fi version, and $499 for the 3G version, the Chromebok looks set to give standard netbooks and ultralight laptops some new competition.
Perenson also noted that the machine's near-instant-on capability was a big selling point; her model started up in under 10 seconds. In addition, she enjoyed Chromebook's keyboard, describing it as "very roomy and comfortable for my touch-typist fingers," and how quickly the computer recognized her "random USB drive." Problems? "The high-resolution images didn't always automatically resize to fit the screen (as they do when you double-click on a photo in Microsoft Windows Explorer and open it [in] Window Photo Viewer," and Perenson found that navigating through dozens of open tabs was too difficult.
Mike Isaac at Wired's Gadget Lab:
Bottom line: we've seen and touched a lot of web-only notebooks in the $400 to $800 dollar range, and none have felt as promising as the Series 5 Chromebook. If the finished products are as half as nice as this one, we'll be excited to see them hit the shelves in June. 
Isaac appreciated how, at 3.3 pounds, which is less than the current MacBook Pros on the market, the Chromebook is not "terribly heavy." Additionally, Isaac appreciated the full-size keyboard and the ability to log in under a guest account to keep browsing details private. Still, it took him a little while to get used to the new search key, which is placed where a caps lock key would sit on a traditional keyboard. The new key "opens up a new tab in your Chrome browser upon pressing it," he explained, in awe. "Hit it again, and the tab disappears." Isaac sums up his feelings about the computer in only a few words: "Frankly, we're stoked on this thing," he wrote.
K.T. Bradford at Laptop magazine:
Aesthetically, the Series 5 is pretty minimalist, but not without style. The rounded edges are a nice touch, making the notebook comfortable to hold and carry. The 3.3 pound weight is noticeable, especially if you're used to netbooks, but not shoulder-straining. It adds to the Chromebook's solid feel.
Bradford focuses on the details, the specifications, in Laptop's quick review, highlighting the dual-core Intel Atom N570 CPU and 2 GB of RAM. The computer, it should be mentioned, also comes with 16 GB SSD and a lithium polymer battery that Samsung claims will not run down as quickly as traditional lithium batteries, which Bradford notes is a good thing "as the battery is not removable."
Mark Hachman at PC Mag:
Chrome OS's coolest features are the quick boot -- under ten seconds -- and instant resume. There's no need not to simply close the notebook while walking from place to place. The only drawback is that the OS occasionally resumes faster than the Wi-Fi can connect.

I suspect that Chromebooks are going to win their fans and their detractors, the same as most other platforms. For now, there's something to like in the Series 5 hardware and software -- but oh, that price.
Hachman seems skeptical about the battery life, found the computer's touchpad to be "stiff and clunky" and described the file preview system as "rudimentary," three selling points for many other reviewers who were able to give the computer a quick test. Still, he believes that the computer's performance, since it's built around an operating system that Google has committed to constantly upgrading, will only improve.
Image: Google.