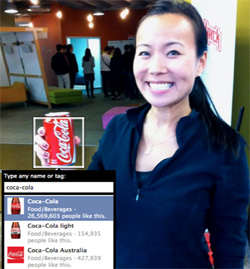 Facebook's latest change is subtle (no, your News Feed isn't getting another overhaul), but could have a significant impact on how we use the social networking service -- and how the company monetizes its hundreds of millions of users. Starting today, you could begin seeing that not only are your friends tagged in pictures, but so, too, are products, places and more.
Initially, this feature -- the ability to tag more than just friends -- will only supports Pages that are categorized as People (think journalists, celebrities, musicians and other public figures with Pages to organize and inform their followers) or Brands & Products (that beer you're chugging at a recent party). But Facebook plans to "expand this functionality to more Page categories over time," according to an official post on the site.
"A Page can be tagged anywhere that someone can view a photo in the photo viewer," Facebook explained. "These photos will appear on the Photos tab on the Page, and not on the Wall. In addition, a Page can be tagged by anyone on Facebook, not just people who have Liked your Page." This is a significant change. Previously, Facebook users were only able to tag people, and those people had to be friends with the person who posted the original photo. You don't have to support -- or Like -- a brand or public figure in order to tag it or them in your albums. Still, the act of tagging a Page could help to drive traffic to it and increase its fan base.