Even Sheryl Sandberg, Facebook's Adult, Needs to Cry Sometimes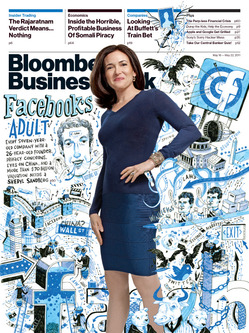 Sheryl Sandberg, the former Google executive who defected to Facebook about three years ago, is profiled at length in the new issue of Bloomberg Businessweek. Brad Stone, a longtime New York Times technology writer, characterizes Sandberg as "Facebook's adult;" a descriptor that the magazine's editors clearly expect will draw attention given its placement on the cover art for the issue (at right).
"Ever since Silicon Valley started turning out companies with beautiful growth charts," Stone writes, "entrepreneurs and their investors have talked about the need for 'adult supervision' -- a seasoned executive who can take over a startup from its inexperienced founders, guide it through the hazards of hyperkinetic expansion, and convert a great idea or breakthrough technology into a bona fide business." Every successful startup, in short, needs a Sheryl Sandberg. But she didn't come in and take over the company. Mark Zuckerberg is still very much the public face of the network he dreamed up while an undergraduate at Harvard. Sandberg, who, at 41, is fifteen years older than her boss, is happy -- or seems to be -- in her position as number two, as chief operating officer. Zuckerberg gets to make all of the final calls, Sandberg told Stone after characterizing her disagreements with the CEO as healthy and common.
Despite not having the final word on all-things Facebook, Sandberg has managed to grow the company at a healthy pace during her time there. Advertising dollars continue to pour in even as Facebook battles privacy issues. The challenge will be continuing to grow without getting unwieldy. Facebook just purchased a new, bigger campus to hold its California-based employees, which number only about 2,500 today. But Sandberg doesn't want to grow into that space too quickly. "We think one of the best ways to stay small it just to stay smaller," she told Stone. Sandberg remembers Google, where she was not so long ago, and how quickly it expanded to its current 26,000-strong team. "She believes that other booming Internet companies that doubled and tripled their staffs during similar periods of unchecked growth ... eventually came to regret the innovation-killing bureaucracy that resulted," Stone wrote.
As long as she can keep Facebook growing at an optimal level, Sandberg will likely consider her time at the company successful. Others already see her as the best thing that has happened to the company. "No one needs a Sandberg more than the company that currently has her," Stone wrote before going on to suggest that Google's losing her could go down as a legendary tech industry misstep. But how long until Facebook loses her too? The Businessweek profile ends with the suggestion that she might someday run for public office, perhaps even aiming for the White House.
So, we know she's ambitious. And we know that she's talented. But what else did we learn about Sandberg, who rarely gives interviews, from this piece?
She networks: And not just on the site that she helps to control. She networks in the flesh. Every few weeks, Sandberg and her husband, Dave Goldberg, the chief executive of SurveyMonkey, host dozens of women at their seven-bedroom home at a "Women in Silicon Valley" event. Sandberg has recruited Robert Rubin, Geena Davis, Rupert Murdoch, Senator Kirsten Gillibrand (D-N.Y.) and others to speak at these events, which she organized to unite women in the community.
She's cautious: Despite Sandberg's Midas-like touch, she's not always comfortable being a first mover. She fundamentally disagrees with Zuckerberg over Facebook's position in China. "Sandberg, a veteran of Google's expensive misadventures in the world's most populous country," Stone wrote, "is wary about the compromises Facebook would have to make to do business there." Zuckerberg, on the other hand, believes that the site could act as an agent of change as it has in Egypt and Tunisia.
She's direct: While Sandberg -- smartly -- likes to reserve praise until it can be made in public, she's not afraid to warn her employees when they're not meeting her standards. "She is super direct," Mike Schroepfer, Facebook's vice-president of engineering, told Stone. "She pulls people aside privately and says, 'I'm going to be the one to tell you, this is what people are expecting from you and here's what you need to do to improve.'"
She's proactive: Sandberg might be the old lady at Facebook, where the CEO is the youngest billionaire in the world, but she's young for the position she holds. (When she was brought to Facebook as COO, Sandberg was 38.) She didn't get to where she is by sitting idly by and waiting for opportunities to come to her. Sandberg made a name for herself right out of college when she went to work for former economics professor Lawrence Summers at his new gig as chief economist of the World Bank. When Summers moved to the Treasury Department, Sandberg was made his chief of staff. In her new role, she had to pass down directives to about a dozen under secretaries, which she had no official control over. Sandberg took the time to visit each secretary and find out how she might be able to make their job a little easier. "Once you've done that, you have the relationship," she said.
She cries: She might be direct and accomplished, but Sandberg is comfortable crying, even on the job. "I've cried at work," Sandberg told Stone. "I've cried to Mark. He was great. He was, like, 'Do you want a hug? Are you O.K.?'"
Image: Bloomberg BusinessWeek.