Do Facebook and Google Control Too Much Personal Information?
A survey finds more than three-quarters of Americans are afraid that online companies know too much about our browsing habits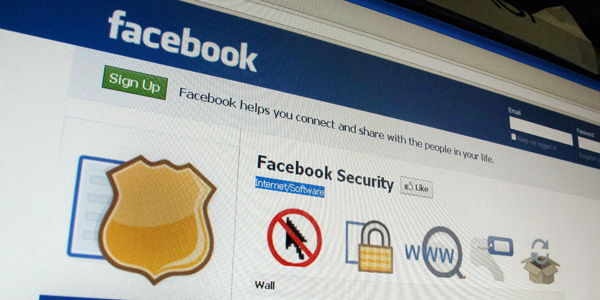 More than three-quarters (76 percent) of Americans believe that online companies, such as Facebook and Google, know too much about our browsing habits and control too much of our personal information, according to a recent Adweek/Harris poll. Harris Interactive, the research firm, surveyed more than 2,100 adults in late April and found that men and women of all ages agreed that the largest Internet companies are too powerful, though those belonging to the most affluent or oldest demographics were more likely to strongly agree.
"With the recent announcement that Microsoft would acquire Skype, one of the most prominent VOIP calling services, in a record-breaking $8.5 billion cash deal, the omnipotence of certain online companies has become even more evident," according to the press release that accompanied the survey results. "And, it seems that control of so much information by these online companies makes Americans uncomfortable."
But how can we make people more comfortable? What can we do about what many feel is a serious problem? Not much if we let those same people who believe Google knows too much have their way. While 36 percent of survey respondents are "strongly" concerned about what Google and Facebook know -- and just 16 percent disagree completely -- only 36 percent said that they support government intervention. "Americans are torn," according to Harris Interactive, "possible between ideals of free enterprise, the products and services that they use and enjoy which these large businesses provide, and their trepidations about companies yielding so much information and power."
TechCrunch's Robin Wauters suspects that the network effect will "significantly outweigh any reservations people might indicate when polled online, so Google and Facebook -- and other major online companies -- needn't worry too much at this point." But the network effect, which states that the value of a product increases as more people use it, has had a long time to play out on both Google and Facebook, with its 700 million members -- and it hasn't worked, it seems.
My own educated guess: As long as Facebook continues to push its users closer to total transparency in its war against online anonymity by quietly changing privacy policies and rolling out unwanted features, people will continue to rebel. Not all of them will leave, but some of them will. With each day, it seems, we move further away from having one active group of Facebook users (with all non-members simply apathetic to the service) to having two active groups: Facebook users and non-users, or those who are consciously not a part of the network. There are fewer and fewer left without a position for or against.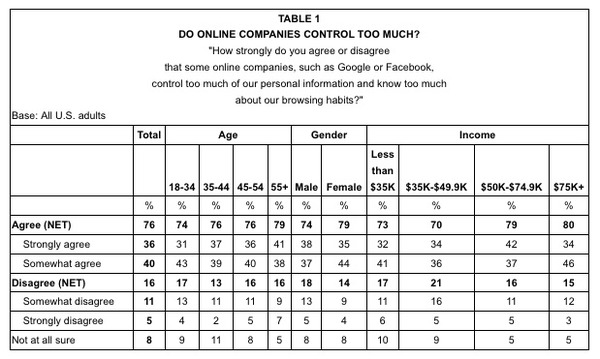 This first table breaks down the responses from 2,124 adults to the question, "How strongly do you agree or disagree that some online companies ... control too much of our personal information and know too much about our browsing habits?" Most respondents agreed with the statement -- and at a similar level across all age groups and the gender divide. The second table shows how, despite their concerns, most respondents oppose government regulation of large online companies. They may not trust big corporations, but they don't trust the government either.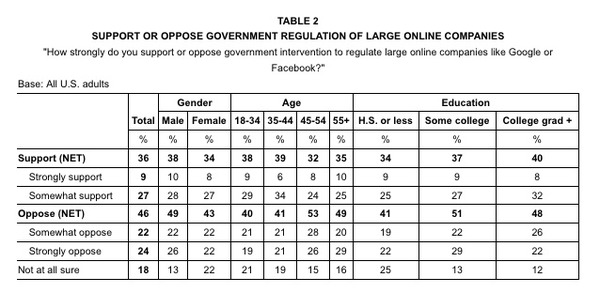 Image: Tan Shung Sin/Reuters.