Bing Continues to Improve Desktop Search Market Share
After looking at the data released by comScore this morning, Jefferies analyst Youseff Squali declared the search market "virtually unchanged," Business Insider reported. But I disagree. Squali must not have looked closely at the numbers. Sure, the share percentage for any of the major search engines didn't spike or fall off dramatically -- it never does. Instead, the numbers moved a few tenths of a percentage point for each in one direction or the other. That doesn't make for an attention-grabbing headline.
The chart below, which shows the total percentage of the desktop search market controlled by Google, Yahoo and Bing (from top to bottom) makes it clear that Google has held on to about two-thirds of the market since April 2010. It has flatlined. Yahoo, which was able to avoid an attack by analysts because it picked up two-tenths of a percentage point over the past month, is still down a full point from where it was last year. Microsoft Bing, on the other hand, has reliably grown every single month, presumably luring in old Yahoo users and individuals leaving AOL and the Ask Network.
ComScore shows that AOL controlled just 1.5 percent of the desktop search market in April 2011, which is less than half of what it had six months ago. The Ask Network, which accounted for 3.6 percent of the market in October 2010, now controls only 3 percent.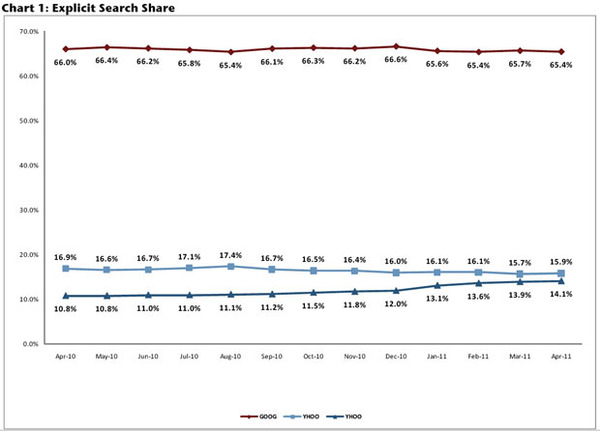 Image: Jefferies.