9 of the Best Recordings From the Library of Congress' New Music Service
The best from a collection of more than 10,000 recordings from the birth of modern music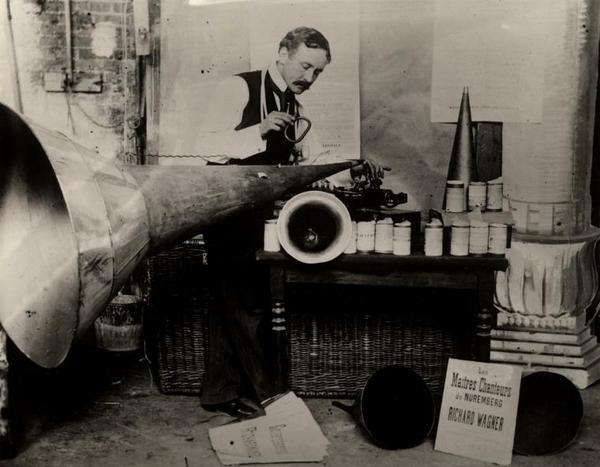 The Library of Congress launched a project to make thousands of recordings from 1901 to 1925 available online yesterday. The collection documents the explosion of recorded popular music styles. The Library named the new free streaming service the National Jukebox.
A collection like this is daunting. How do you even know what you're looking for? We asked the lead curator of the Jukebox, Gene DeAnna, to create a playlist for us of some of his favorite recordings as an entry point for the collection. It's a great tour through some of the key types of recordings that you can hear, which were all originally put out by Sony's Victor Talking Machine Company.
One thing to note about all the recordings is that they were made without any modern production. "You're talking about no amplification or electronic tone control," DeAnna said. "The engineers had to locate instruments in the studio in front of this horn. They got very, very good at it."

1. Original Dixieland Jazz Band, "Livery Stable Blues, 1917. This song is "considered the first jazz recording," DeAnna said. "You can listen to the ragtime things that come before that, but what you are hearing on this record is jazz. The improvising, the syncopation, it's all there."

2. Original Dixieland Jazz Band, "Bluin' the blues," 1918. This jazz group from New Orleans is just outstanding. If you have any interest in the genre, you're going to love these recordings.
3. Enrico Caruso and Nellie Melba, "O soave fanciulla" from La Boheme, 1907. DeAnna's first pick was this aria by one of the most famous opera singers in America, Enrico Caruso.
4. John McCormack and Lucrezia Bori, "O soave fanciulla" from La Boheme, 1914. In this later recording, you can get a taste of two other opera greats. The male singers in these first two tracks, McCormack and Caruso, were considered two of the best in the world, and as DeAnna put it, being able to listen to them back-to-back is one of the "great treats" of the collection.
5. Gallagher and Shean, "Absolutely Mr Shean!" 1922. "It's this back and forth duet of an Irishman and Jewish character singing about their marital woes and it's just absolutely terrific," DeAnna said. The performers Ed Gallagher and Al Shean are also the composers of the song.
6. Len Spencer and Ada Jones, "Sweet Peggy Magee," 1909. This is an example of the kind of ethnic humor that was popular in the first decade of the 20th-century. Spencer and Jones sent up all kinds of immigrant groups with funny accents and plays on the stereotypes associated with the various cultures. Both were big recording stars back then, though they've completely fallen out of popular memory.
7. Nat Wills, "No News, or What killed the dog?" 1908. In this sketch, a clueless rich guy comes home from a long trip to talk with his black servant about what happened while he was away. Like a lot of the ethnic and racial humor you can hear in the collection, the verbal blackface in this piece is disturbing. That said, the narrative action of this piece is really good.
8.Paul Whiteman Orchestra, "Fascinating rhythm," 1924. This Gershwin tune is delivered with a tinny, wild speed that's intoxicating. "Paul Whiteman's recordings of this period are really terrific," DeAnna said. "Way, way more innovative and more jazzy than he's given credit for."
9. Frank Burbeck, "Hamlet's soliloquy," 1912. A dramatic (and I do mean dramatic) reading of the most famous speech from Shakespeare's Hamlet. It's one of many spoken word samples available in the collection.