Our collective memory of Yuri Gagarin's 1961 flight glows with retrospective admiration. And not unwarranted: Major Gagarin's historic flight was not just a first spaceflight, but a full Earth orbit. The second, three weeks later, by America's Alan Shepard, was touted as the "free world's first man in space." But it remained sub-orbital.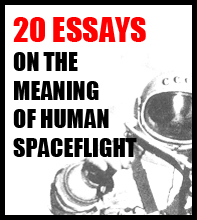 The retrospective warmth also arises from our privileged view on the course of events that followed Yuri's flight. It was a first of many human spaceflights, most notably our American Mercury, Gemini and Apollo programs. After Apollo, the Shuttle program gave us an astronaut corps that we could follow (on Twitter!) and ultimately an International Space Station to admire. The success of these programs -- especially Apollo -- cast a blanket of historical amnesia on the process that led to their achievements.
I believe that a peek under that blanket of amnesia can be instructive today.
In the years leading up to our 1960s space programs, despite Presidential initiative and public enthusiasm, the scientific community held human spaceflight to a standard of scientific inquiry that it did not meet. Absent a cultivated appreciation for the cultural value of human spaceflight, it was widely opposed.