Quakebook: International Sorrow Finds an Outlet Online
Helpless in the face of nature's wrath, a group of Japanophiles crowdsourced a book of essays to give a voice to those affected by Japan's massive earthquake
At 2:46 p.m. on March 11, a 9.0-magnitude earthquake struck just off the east coast of Japan. The earthquake triggered a massive tsunami -- almost 40 meters in height -- that washed nearly 10km inland. Almost 125,000 buildings were destroyed; the Japanese National Police Agency estimates that 13,596 people were killed. Thousands remain missing.
Hours after the initial quake subsided, a blogger ventured outside his home in Abiko, part of Japan's Chiba Prefecture, to take in the devastation. The British expat, who writes pseudonymously under the name "Our Man In Abiko," chronicled the uncertainty of the quake's aftermath on his personal blog, pointing his readers to the Japanese Red Cross Society and fearing for the safety of his wife and two children. "Every time the house shakes, I have to make a quick decision," Our Man wrote. "Is this one worth waking them up so we can stand in the cold outside? No, not this time, seems to be weakening. Twenty minutes later. Another aftershock, worse than before. Now do I wake them? No, not this time. I look over every now and then and see that my wife isn't sleeping."
After a few days, Our Man had a eureka moment: Why not collect personal essays, artwork and photographs inspired by the earthquake and compile them into a book? Within a month, he'd have Quakebook.
2:46: Aftershocks: Stories from the Japan Earthquake, also known Quakebook, is a collection of essays, eyewitness accounts, artwork and photographs sourced almost entirely through Twitter from people around the world. Our Man modestly describes the project as "an idea [developed] in a shower by an English teacher in a commuter town on the outskirts of Tokyo that has blossomed into something massive." But with dozens of personal stories and graphics, Quakebook's two-week turnaround makes the project something of a design miracle.
"I started with a simple call for 250-word submissions, and pics and even tweets," Our Man tells me in a lengthy email discussing the evolution of his project. "Where were you when it happened, what did you feel? How have you helped? Did it change anything in the way you live your life? Are you coping with grief? Or just bewildered behind a barrage of media images? Write anything as long as it is heartfelt." Within a day, he had over 70 submissions.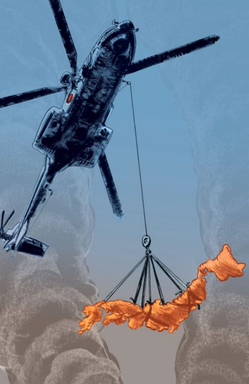 From the outset, Quakebook was a labor of love, a project undertaken by those who felt the pain of their home -- and in many cases, adoptive -- country from beyond its borders. Our Man notes that his earliest contributors "were all Colonials," mostly foreigners living in Japan and Japanese living abroad.
Aware of the international complexion of Quakebook, Our Man went in search of local contributors, those who had borne witness to the quake's devastation. His mother-in-law contributed, and then his neighbors. His wife, Our Woman In Abiko, searched the Internet for details from people, as Our Man says, "who had witnessed real suffering, and found some blogs and gained permission to translate them and so on." As Our Man sought eyewitness accounts, his international team was editing, designing and networking through Twitter, trying to ensure that the project was finished in a timely manner.
Despite its far-flung contributors, the book itself offers a departure from projects in the traditional post-disaster vein that, while fundamentally well-intentioned, often contribute relief at a distance, in purely monetary terms. Songs for Japan, the star-studded relief album relying on the repackaged singles of high-visibility stars like Justin Bieber and Lady Gaga to raise awareness for the disaster, comes to mind.
"I don't want to trash Songs for Japan because, basically, the goal of that project is the same as ours," says Dan Ryan, one of the first journalists to join the production of Quakebook. "But it is just a compilation of existing recordings thrown together on the fly and packaged rather quickly with a red sun icon on it, isn't it? 'Teo Torriatte' by Queen is the only song in the compilation that I know was specifically written for the Japanese, but it dates from 1976. Personally, 'Songs for Japan seems like just another music industry celebrity project to me. I don't even know if any of the recording artists were directly involved with putting together the two-CD set."
The Quakebook project is on the opposite end of the spectrum from projects like Songs for Japan, offering a deeply personal, heartfelt reaction to the disaster wrought by the quake and tsunami.
"Quakebook started with small stories from regular people that convey a truth, honesty and urgency which I doubt other artistic Japan earthquake relief projects have," says Ryan. "And Quakebook does have celebrity contributors. We are so honored and lucky to have them. It was a personal thrill for me as an editor to read and be asked to edit original work by guys like William Gibson and Jake Adelstein. But these fellows, as well as Barry Eisler and Yoko Ono, are directly or strongly connected to Japan in some way."
The project, then, is more than just a book; it's a digital community, a collective act of both celebrating and mourning Japan by those beyond its shores. Some of the strongest communities are often created -- or reaffirmed -- in the midst of terrible tragedies. In his 1982 work The Inoperative Community, French philosopher Jean-Luc Nancy made the case for a concept of community as something divorced from a social, economic or political foundation, but something built from the pain and anxiety of disruptions in the natural life:
Community cannot arise from the domain of work. One does not produce it, one experiences or one is constituted by it as the experience of finitude.... Community necessarily takes place in what Blanchot has called "unworking," referring to that which, before or beyond the work, withdraws from the work, and which, no longer having to do with production or with completion, encounter interruption, fragmentation suspension. Community is made of the interruption of singularities or of the suspension that singular beings are ... community is the unworking of the work that is social, economic, technical, or institutional.
Where a local funeral or memorial might have been the forge where community was fashioned, the latticework of connections formed over Twitter surrounding Quakebook provided a space for sharing, for discussion and for memory. It makes sense that Quakebook's initial contributors were expats or distant Japanophiles; exempt from the physical chaos of post-quake Japan, far from their former communities in Tokyo, Osaka,or Yokohoma, Our Man's editorial team was drawn to the project by feelings of helplessness or despair. "The act of writing is therapeutic -- for the writer and the reader," Our Man adds. "It is life-affirming and more valuable than a mere blanket or bottle of water."
For those who have contributed to Quakebook -- celebrities and otherwise -- the connection to Japan is deeply personal, nearly visceral. For Our Man, his connection is entwined with his love for his family. "My history with Japan is simple," he explains via email. "I fell in love with a woman I met in Arkansas and followed her back to her home, Japan. If she had been from Timbuktu I would have followed her there and we wouldn't be having this conversation, but that's just how life operates. I was here in the late '90s, then we moved to the UK in 2000. We've been back in Japan since 2007."
Dan Ryan's story echoes Our Man's. Fresh out of college, Ryan took a job in Tokyo with an Australian colleague of his father's, moving into a small studio apartment near "Ueno Park, Tokyo University, shrines and temples, and a red light district," he said. "I did not learn the language very well, but I saw how the Japanese people were, how they lived. And it was how I wanted to live, to have art and beauty and nature and Zen and crazy pop culture and electronics integrated into everyday life. I lived next to Yushima Shrine, one of the oldest and most sacred in Tokyo. And I would walk through the shrine every day to get to work, and buy a Dr Pepper out of the soda machines on the temple grounds. That's what Japan was to me: A 1,000-year-old shrine with the latest soda pop vending technology integrated into it. I've loved Japan ever since. Thinking about Japan makes me literally homesick."
Driven by both inspiration and helplessness, Our Man's impromptu group of contributors were inspired by Quakebook. Our Man leaned heavily on Twitter, where a community of digital volunteers has sprouted up virtually overnight around the hashtag #quakebook.
"From the very beginning I kept hitting walls, but every time I did, I knew a way to find an answer -- Twitter," Our Man explains. "Need an editor? Ask Twitter. Need a translator? Ask Twitter. Need a designer? Ask Twitter. I knew the strength of the idea would carry the project through, I just had to find the means. Our Man promised a book in a week, and armed with email, Neo Office and Twitter, he delivered because people responded to the honest call for help."
While Twitter is often described as a silver bullet for crowdsourced projects, Quakebook required more than 140-character bursts of inspiration. Coordinating across timezones required contributors to change their sleep schedules to ensure they hit a self-imposed deadline. Ryan's home in Brisbane, California, was 16 hours behind Tokyo and Abiko; when Our Man and his colleagues were waking up and starting their days, Ryan would be ending his as the submissions came pouring in via email for editing. "I ended up sort of adjusting my body clock to both Brisbane and Tokyo time, and putting in many 14 to 16 hour days because of it," he recalls.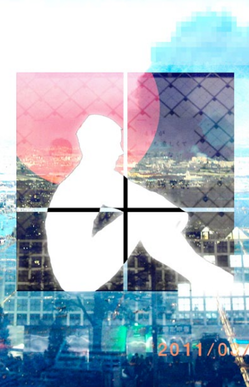 But Quakebook became something of an obsession to Our Man and his team. "In times like these, we don't have the luxury to wait," Our Man recalls thinking. "There are tens of thousands of people with no homes, no food, no water, little hope. How can we say to them, 'Sorry we can't make this book to raise funds for you because I'm on holiday next week and, by the way, it always takes a year to publish a book. It's the weekend and we don't work weekends, etc.' Unacceptable."
For the Quakebook team, the easiest and most rewarding part of the project was actually doing the work: reading the stories pouring in from all corners of the globe, being intimate with people's raw, emotional views of what happened during the quake and tsunami. "In some cases the raw stories needed a lot of work to get them in shape for the publication," Ryan explains. "But it was such an honor reading what our contributors willingly laid out bare for us. Knowing I was editing these amazing little stories for a book with such a, well, pure and noble goal made nearly every word I read and edited a small piece of treasure."
You can now purchase Quakebook on Amazon for $9.99, with all proceeds going directly to the Japanese Red Cross Society. But while Quakebook itself is finished, the project is far from over. What started as a question burning in the mind of a British ex-pat -- "What did 2:46 Mach 11, 2011, mean to the world?" -- had evolved into a community of shared loss, given physical form through Twitter and email. The Quakebook Twitter account remains active, tracking reviews and seeking international attention for the project. Though they've never met, Dan Ryan and Our Man are in constant contact. The two see a future for Quakebook as a permanent voice for survivors, raising awareness of Japan's ongoing recovery and the personal stories of those at the center of the disaster.
Quakebook has grown into a project that involves hundreds of volunteers around the world. But who are the anonymous bloggers at the center of it? "I always kept Our Man in Abiko as a blog for me to post satirical swipes at Japanese politics and media, it was a release valve for me to talk about more gripping things than the verb conjugations of my day job," Our Man explains. "Then the earthquake happenedand I realized Our Man had a more useful purpose. He could be a fictional character who could rally the troops and offer real support. To attach my name to that seems caddish."
"It's not my story after all," he says. "It's Japan's."
Images: 1. Quakebook; 2. Chris MacKenzie/Quakebook; 3. Mari Kurisato/Quakebook.