Picture of the Day: Space Shuttle Endeavour in Lightning Storm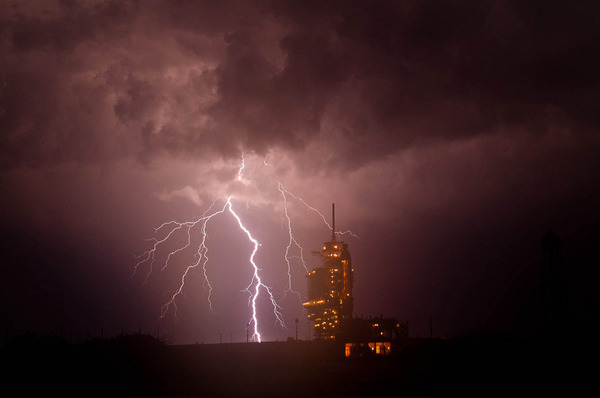 Last night, a dramatic electrical storm broke out near the Kennedy Space Center in Cape Canaveral, where Space Shuttle Endeavour is sitting on the launch pad in preparation for a 3:47 p.m. EST liftoff. NASA captured this photograph, which shows the launchpad illuminated by a bolt of lightning.
"The planned retraction from the Rotating Service Structure (or RSS for short, the thing thats surrounds the shuttle, and allows crew to access various levels for last-minute checks or repairs) is now planned to start in just a few minutes," wrote Xeni Jardin last night. "That step was delayed from an earlier-scheduled start time, due to weather." But the launch time has not yet changed; everything is still a go. Jardin is on-site in Florida and will be blogging regularly, I'm sure, about STS-134 over on BoingBoing.
View more Pictures of the Day.
Image: NASA.