Our Chance to Get Clean Energy Right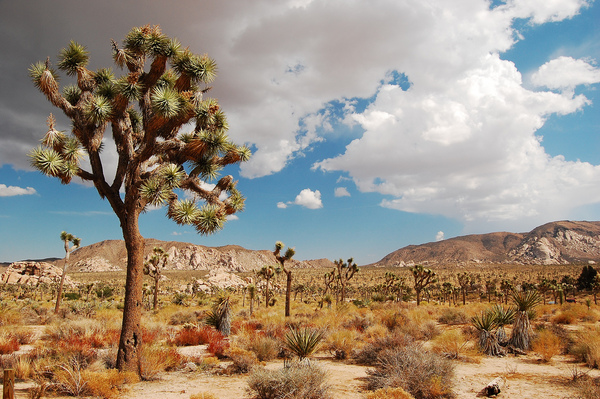 It's springtime and birders, rock climbers, wildflower lovers and maybe even some long-lost U2 fans are flocking to the boulder-strewn desert wilderness just east of Palm Springs. But unless we act quickly to curb climate disruption, soon the one thing they won't be able to find in Joshua Tree National Park is an actual Joshua tree.
From the time John Muir founded the Sierra Club in 1892, we have known how to stand up to the forces that would destroy the treasured landscapes that are so essential to human happiness. Our historic adversaries -- mining, logging and development interests -- have always been formidable. But now climate disruption poses an even bigger threat to those places. And the dirty energy industries responsible for climate change are even more powerful and relentless in resisting our efforts.
Today, being good stewards of our land, water and wildlife requires that we do everything we can to end our dependence on dirty energy, especially by moving aggressively to replace coal and oil with clean energy solutions.
We can take our first steps toward this goal by making our homes and offices as energy-efficient as possible and by putting Americans to work installing ingeniously-designed and affordable solar panels on rooftops and in urban parking lots as quickly and as aggressively as we can.
We will also have to build a number of large-scale clean energy projects, like the 700 MW Maricopa Sun project that we helped move forward in California this past week. While coal and oil are dirty vestiges of the 19th century that pollute our water and air, solar projects represent a fusion of cutting edge innovation with old-fashioned can-do spirit. But they are not without challenges.
Any large energy project carries the potential to damage wildlife habitat and natural resources -- the very treasures that our 1.4 million members and supporters work with us to safeguard. In the Mojave Desert, we worry about protecting vulnerable creatures like desert tortoises, bighorn sheep and golden eagles.
We are in a tough position. But there are solid solutions to this dilemma. We must build large-scale energy projects in the places where they will cause the least harm -- abandoned agricultural lands, defunct mines and other areas that have already been developed. By putting projects next to roads and transmission lines, we avoid the most sensitive habitat. We've worked with the Obama administration on a plan for developing these projects responsibly by setting aside special solar-energy zones that meet these criteria. When developments do cross habitat, we need to protect additional land in order to offset the damage.
Those of us who have dedicated our lives to protecting wildlife and wild places, and who are now taking on dirty coal and Big Oil, have a unique role to play in making sure that large-scale clean energy is developed both swiftly and responsibly. Because climate disruption is not only a hazard to our health and our communities -- it also poses a threat to wildlife and wildlands that outstrips anything we've seen before. If we allow it to worsen, and if we don't manage our landscapes in ways that quickly compensate for the damage already done, some of the wildlife that we treasure most here in California, like bighorn sheep, will be lost as habitat changes and they literally are left with no place to go.
That's why Sierra Club and other environmental organizations are working closely with energy developers to help them do the right thing by responsibly meeting strict environmental review, and by helping them identify the best possible locations and practices for solar and wind projects. Our volunteers and staff have already worked to improve and promote projects that add up to more than 5,000 MW of solar in southwestern states alone.
This isn't any easy endeavor, but it's one of the most important we have ever faced. We are deeply committed to creating the solar and wind energy we need, and we will be working hard to make sure it's done wisely.
This is our chance to get clean energy right, from the start.
Image: reallyboring/Flickr.