Old, Weird Tech: Mikiphone, a Pocket-Sized Phonograph
While the Mikiphone's metal case looks small enough to travel with, it takes quite a bit of assembly to get into working order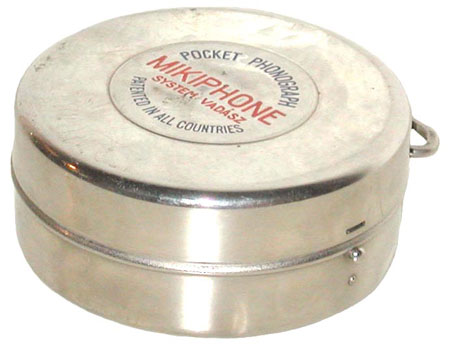 Portable music may seem like a luxury ushered in by the Sony Walkman and popularized by iPods, but hipsters of the 1920s were able to jam to their favorite tunes on-the-go, too, thanks to the Mikiphone, a pocket-sized phonograph.
An estimated 100,000 to 180,000 of these mini-music players were manufactured between 1924 and 1927 in Switzerland. Unlike our modern music devices, the Mikiphone had no batteries, relying instead on a hand-crank for power. A resonator was used to broadcast the sound.
When closed, the Mikiphone looks quite compact -- you could definitely cart it around in your purse. But, as you can see from this video, the apparatus takes quite a bit of assembly. The parts are stored in the case, which, when closed, has a diameter of just 11.5 cm and a thickness of 4.7 cm. Put together, the Mikiphone takes up a considerable amount of room -- it plays 10-inch records -- making it more of a gadget you might whip out at a party than one you listen to while trotting to the general store.
Explore the entire Old, Weird Tech archive.