My Life According to the iPhone's Secret Tracking Log
My smartphone has been tracking me, but let's make the best of this weird privacy snafu: I can't help but love the data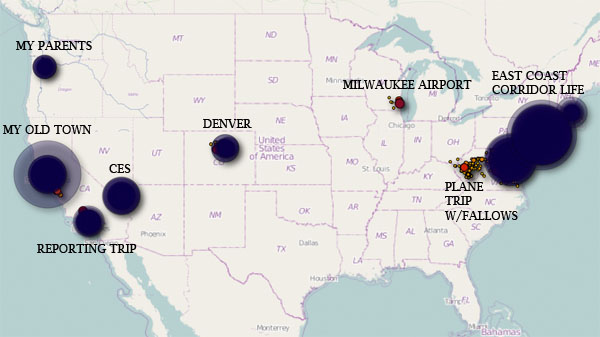 I know I should be upset. Apple was secretly creating a log of all my travels by triangulating the nearest cell tower to my location. They've been doing it for a year and storing the data in an unencrypted file, and no one knows exactly for what purpose. "Okay, Apple, why is an iPhone log file recording lat/long location coordinates? Seriously, why?" observers like Declan McCullagh have rightly asked.
So, yes, Apple should explain itself and/or just stop this data collection.
In the meantime, though, I've been playing with the software that the guys who discovered the logfile, Alasdair Allan and Pete Warden, released. It allows you to access and visualize your own data and I find myself fascinated staring at this automatically generated record of where I've been. There's my life, surreptitiously recorded by my iPhone. I particularly love the little series of dots out in West Virginia, which were recorded while I was flying around with James Fallows, and those dots near the Milwaukee Airport, where I made peace with Chili's.
I find the data is best at the metro-region scale. The national stuff is OK, as you can see above, but the secret trove is best when you're looking at the car trip-level. Here, each little clump of cell phone pings reminds me of a story. There's the time I went to Great Falls, and another time to an Audubon bird-watching preserve, and Annapolis, and a trip down to Richmond. I can see where I travel in the city and what terrain remains unexplored.
Out of curiosity, I'd love to see other people's maps. We might as well make the best of this weird privacy snafu.