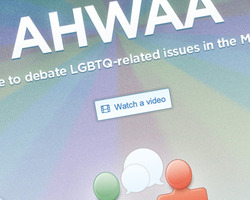 Trust me: Coming out as gay in this country isn't exactly easy. But, based on what limited knowledge I have about the area, I suspect it's much more difficult in the Middle East. A promising new web start-up hopes to change that. Ahwaa.org, a product of Mideast Youth, is "a bilingual tool for LGBTQ youth in the Middle East that leverages game mechanics to facilitate authentic, high-quality interactions."
Once users join the site, they're able to build out their individual profiles as much as they want; plenty of information can be kept private. And then they dive in: Ahwaa facilitates respectful conversations on a variety of topics surrounding homosexuality.
One of the biggest problems with any website is that famous Internet archetype, the troll. They move from post to post leaving ugly comments after not reading anything written on the page. They're often mean and hurtful. And, with sensitive subjects like those faced by gay, lesbian, bisexual and transgendered people in the Middle East -- Ahwaa's target audience -- the troll could be much more than a pesky annoyance. Ahmed Zidan, Mideast Youth's Arabic Editor, thinks that his company has solved that problem. By "game mechanics," Ahwaa means a point system. "The functionality is what makes this unique -- the site uses game mechanics which, based on how many you collect, gives you access to more hidden sections of the site, which will be introduced in version 2," according to Esra'a Al-Shahei, the group's director. "You collect points depending on how many people find your comments to be useful. When you click 'This was helpful!' on a comment, that user gains 10 points. By leaving a comment/advice/experience, you get 5 points. It's a way for us to deal with trolling, the system takes care of them by gradually making them irrelevant -- and they disappear."