Is It Too Soon to Recreate the Japanese Disaster in Video Games?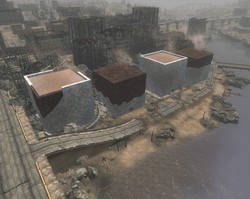 It will be five weeks ago this coming Friday that Japan was hit by a devastating 9.0-magnitude earthquake that triggered a tsunami of epic proportions. Villages were destroyed, lives lost and the walls of a nuclear power plant breached. Workers put their lives at risk -- and continue to -- to contain potential fallout from Fukushima Dai-ichi in the north of Japan. Today, thousands of bodies are still missing.
Given the continued interest in the area and the stream of stories documenting loss both material and emotional, how should we react to a newly-released mod that makes visiting the destruction -- at least virtually -- possible?
Created by a 25-year-old fan of the popular game, a mod for Fallout 3 allows PC gamers to visit the ruins of Fukushima Dai-ichi. "The reaction online in Japan is varied: from impressed to disgusted and everywhere in between," according to Brian Ashcraft at Kotaku, which has more screenshots. "Some even thought these images were from upcoming downloadable content, unaware that they were created with a mod."
Fallout 3, released in October 2008, takes place in the year 2777, 200 years after a nuclear apocalypse is said to have destroyed the game's internal world, a place where international conflicts resulted in a Sino-American war. While most of the game is set in Washington, D.C., outside of Vault 101, a shelter where 1,000 humans live, protected from nuclear fallout, it was built to open-ended and modified by its user base.
Video game mods are nothing new (in high school, I built a complicated map in Age of Empires that closely resembled Tolkien's Middle Earth), but rarely are they put together so quickly and with such chill-inducing accuracy. Is the Fallout 3 mod a way for users to pay homage to lives lost in the disaster and learn more about the ongoing situation? Or is it exploitation?