Hulu Almost Redeems April Fool's Day With Geocities Throwback Design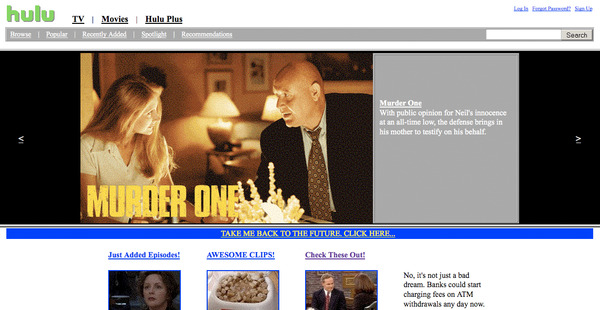 April Fool's Day is like the office birthday party of prankdom: obligatory, sad and distracting. Not only that, but there is the distinct possibility that when you're flying through your RSS reader or Twitter feed, you might see something interesting and get punked. I hate it. I could only hate it more if you got pinched if you didn't wear the appointed color of April Fool's Day. (Which would be goldenrod, obviously; joke's on you.)
BUT! We have found one redeeming feature of this awful pseudoholiday, and that is Hulu's amazing gag redesign today. They patterned Hulu after a mid-1990s Geocities page with terrible frames, bad typography and a scrolling text bar! These tricks were major features of what I call The Gold-Plated Age of Web Design in which we had no tools to make things look good, so any page that wasn't black text on a gray background was hailed as innovative.
This was also back when designers still mostly made fancy chairs and clothes, so web page design was a little like a bunch of nerds getting together to critique each other's tucked-in t-shirts and faded black jeans. It wasn't, "Maybe you should wear a suit;" it was, "You need more robots on your t-shirt."
So, thank you, thank you, Hulu, for bringing these memories. April Fool's Day is now only my second least favorite day of the year. Stupid Arbor Day.