How Tokyo's Imperial Hotel Survived a 1923 Earthquake
The architecture of Frank Lloyd Wright proves impressively sturdy amid the seismic activity and fire of an earlier Japanese disaster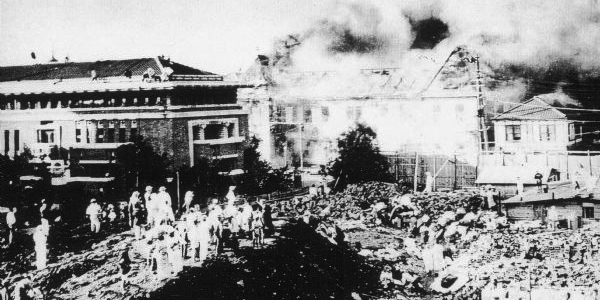 Frank Lloyd Wright's Imperial Hotel in Tokyo was renowned for withstanding the earthquake of 1923, when nearly all other important buildings were destroyed by seismic activity or fire. From his autobiography:
"Why not, said the directors [of the hotel] to the Baron [Okura, the chairman], eliminate the pool and save 40,000 yen?" The Baron saw sense in this and sent for me. His mind was made up. No arguments took effect. I told him via interpreters that it was the last resource against the quake. In a disaster, the city water would be cut off, and the window frames being wood in the 500-foot building front along the side street where wooden buildings stood, fire could gut the structure even though it withstood the quake. I had witnessed five terrible fires in Tokyo already -- walls of flame nothing in any degree inflammable could withstand.

No matter. The pool must come out. No, I said, it was wrong to take it out, and by such interference he would release me from my agreement and I could and would go home with no further delay. And I left his office. But I did not leave Tokyo and the pool went in to play its final part in the great drama of destruction that followed two years later.
Of all 20th-century geniuses, none was more conscious of the fact than Wright. But for his clients, his unshakable self-confidence could pay.

(Quoted from an excerpt in Cary James's Frank Lloyd Wright's Imperial Hotel [1968; Dover edition, 1988], 43.)

Image: Imperial Hotel by Frank Lloyd Wright (left) shortly after the Great Kantō Earthquake of 1923. To the right is Kangyō Bank on fire. Wikimedia Commons.