How the Soviet Union Airbrushed Some Cosmonauts Out of History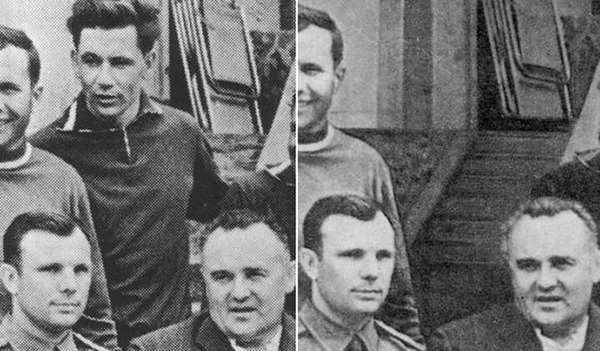 Timed nicely to coincide with all of the talk yesterday (here and elsewhere) about the 50th anniversary of Yuri Gagarin's flight around the globe, Wired Science put together a fascinating gallery of retouched space photographs. The image displayed above -- and all of the others in the collection -- shows how the Soviet Union simply airbrushed some cosmonauts out of spa in the 1970s.
"The Soviet Union's string of space triumphs over the United States was tarnished by a series of falsifications that surfaced and cast doubt on all their accomplishments, even the genuine ones," former NASA scientist James Oberg wrote in introducing the photographs. "Today on the 50th anniversary of the Yuri Gagarin's first spaceflight, the greatest of the Soviet space triumphs, there are still plenty of unresolved doubts and suspicions."
It was only discovered that the photographs had been doctored after clumsy Soviet news managers accidentally re-released the originals. "Side-by-side publication of the forgeries sparked widespread mockery of the clumsiness of the Soviet lies," Oberg wrote. "This led to a series of awkward attempts to explain the photos, that let slip even more information."
H/T BoingBoing.