Greenpeace Argues That Apple Is the Dirtiest Tech Company
The company's new data center in North Carolina, scheduled to open this spring, will triple its annual consumption of electricity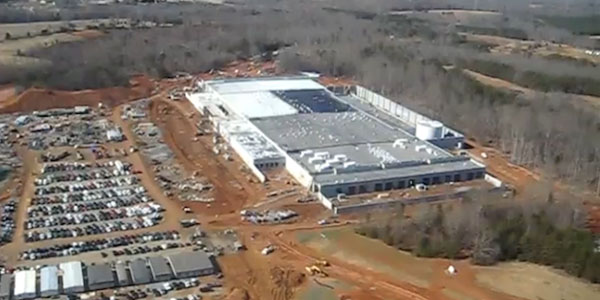 Every time that you send a text message, you're damaging the environment. Whenever you take a call or pull up a song from your smartphone's hard drive to play while going for a jog, you're turning a cold shoulder to Mother Earth. That's the message Greenpeace is trying to drive home with its new report, "How Dirty Is Your Data? A Look at the Energy Choices That Power Cloud Computing" (PDF). "Consumers want to know that when they upload a video or change their Facebook status that they are not contributing to global warming or future Fukushimas," said Gary Cook, Greenpeace's IT policy analyst and the lead author of the report.
The report, which relies on data that is publicly accessible, ranks Apple as the least ethical among several tech companies. In a clean cloud power report card, Greenpeace gave Apple a 6.7 percent on its index (compared to 55.9 percent for Yahoo and 26.8 percent for Amazon.com) as well as a C for both transparency and mitigation strategy and an F, the lowest grade possible, for infrastructure siting.
Greenpeace seems to put the most weight on that last category, infrastructure siting, to determine its overall ranking. And it punishes Apple for investing in a North Carolina facility that will triple its annual electricity consumption. The facility will use the same amount of electricity as about 80,000 average homes in the United States or a quarter million in the European Union. "North Carolina is known as the 'dirty data triangle' used by Apple, Google and Facebook," according to Time's Techland. "And they are likely to use it because it's cheap and offers tax incentives. But it comes at a high price: only 4 percent of its energy comes from renewable sources; 61 percent comes from coal."
In the report, Greenpeace calls out Yahoo! and Google for understanding "the importance of a renewable energy supple, with Yahoo! siting most of its data centres near sources of renewable energy, and Google ... directly signing power purchasing agreements for renewable energy and investing in solar and wind energy projects in many U.S. states as well as Germany." But it also warns that Facebook, should it continue to grow at its current pace, could soon eclipse Apple as the dirtiest tech company, with more than half of its current facilities relying on coal.
The most shocking numbers to come out of the study look at overall electricity demands of the Internet as we know it. The Internet accounts for more electricity consumption than all of Russia, according to Greenpeace. If it "was a country, it would rank 5th for the amount of electricity usage, just below Japan," the report finds. "But unlike geographical states, the Internet's data centres can be found all over the world, clustering in locations that offer strong tax incentives and cheap, but often dirty, electricity."
Does it matter? Obviously, relying on dirty coal to power enormous data centers (Apple's new center in North Carolina, scheduled to open this spring, is a $1 billion facility) isn't good for the environment, but do infrastructure siting decisions drive consumers to one tech company over another? For the record, it was only yesterday that Apple executives were busy celebrating soaring profits and sales figures for the second quarter of 2011.
Image: Apple's new data center in North Carolina, Creative Commons.