Google Opens Map of United States to Amateur Cartographers
Google's tool now allows power users to add bike lanes and buildings and make other substantial edits to the search giant's map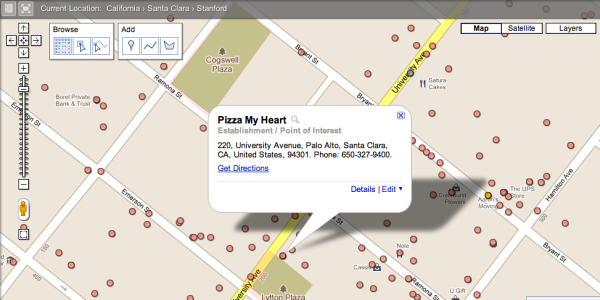 They're trying to, but Google's team can't map everything by itself. They need your help.
Google Map Maker is a product that the search giant developed to capitalize on amateur cartographers -- or just people who want to contribute their location-specific knowledge (and free labor) to the ever-growing Google Maps database. "Before Google Map Maker -- a product that enables people to add to and update the map for locations around the world -- only 15 percent of the world's population had detailed online maps of their neighborhoods," according to a post on the official Google blog. "Using Map Maker, people have built out and edited the maps for 183 countries and regions aroud the world" -- including Guyana, Bhutan and the Pitcairn Islands -- and now, due to the contributions of citizen cartographers, 30 percent of people have detailed online maps of the places they live."
While most of the places mapped by individuals off-staff are remote villages and island nations (think Wallis and Futuna, French territories in the South Pacific), contributions have also included university properties and road networks that had never been recorded online. And that's why Google's decision to open up Google Map Maker to the United States today could prove incredibly beneficial to the millions of people who use Google Maps. It'll also be a lot of work for the Google Maps team as, unlike Wikipedia or other crowdsourced products, every edit is reviewed before a change is made to the official map. Still, Google promises the review process will be completed "within minutes -- dramatically speeding up the time it takes for online maps to reflect the often-changing physical world." To see that world change right before your eyes, Google has a pulse feature that allows you to watch edits being made on Map Maker in real-time. (As I type this, a Starbucks is being added in West Lafayette, Indiana.)
"You know your hometown best, and with Google Map Maker you can ensure the places you care about are richly represented on the map," Google explained. "For example, you can fix the name of your local pizza parlor, or add a description of your favorite book store." But the software is much more powerful than that. In addition to naming and describing existing locations, you can add your own, drawing in bike lanes and buildings. In the official blog post, Google calls attention to ITT Bombay, a college campus in India. There, a power user has added tiny details to put together a map of the site complete with indiviual parking spaces and volleyball courts.
Image: Google Maps.