Cloud Girlfriend Launches as a Dating Site for Role Players
This site allows you to create the perfect you and find that perfect someone, even if you'll never be able to meet in real life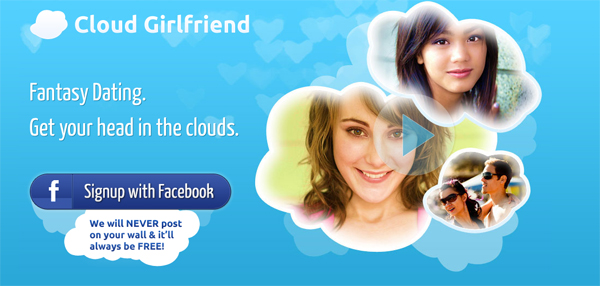 Get your head in the clouds. That's the tagline for Cloud Girlfriend, a new dating website that wants to help you find the perfect girlfriend. Problem is, you won't be able to go on any actual, real-life dates with that girlfriend once you find her because she'll be fake. Not computer-generated fake, but fake in the way that your mom always worried about when she first sent you off on your own into the wilds of AOL chatrooms and message boards as a kid. These are other people, based somewhere in the real world. Other people with (presumably) day jobs and a lives who like to imagine themselves as someone else. It's role-playing on the web.
"We allow people to define their ideal self, find their perfect girlfriend or boyfriend and connect and interact as if that person existed," David Fuhriman, the co-founder of Cloud Girlfriend, told TechCrunch's Alexia Tsotsis. "It can help in learning how to manage a real relationship, and they then take it into the real world," he added, describing his start-up as a combination of Match.com and Second Life.
It took a while for Fuhriman's idea to be realized. It's been in the works for a while now, first as a site that would allow users to create fake Facebook profiles and interact with others through that account. But that idea ran up against a lot of bad press as it would conflict with Facebook's Terms of Service and force many users of the social network who are uncomfortable with anonymity on the web to rethink their profiles' very existence. How many of your Facebook friends want to receive incessant pokes from fake user accounts?
Cloud Girlfriend, now a standalone site, will keep all role players linked together and confined to one Internet ghetto where they can flirt -- and poke, or its Cloud Girlfriend equivalent -- all they want without irritating others. Women can sign up easily; men need a code passed along from another user.
Fuhriman plans to monetize the site by allowing users to send virtual goods to each other: Cloud Diamonds, Cloud Flowers, even a Cloud Vacation.
While I think this site is far-fetched -- I live virtually, but not anonymously -- don't dismiss it yet. Five minutes after Tsotsis joined, she writes, she had a date.