Celebrity Invention: Frank Gehry's Cardboard Chairs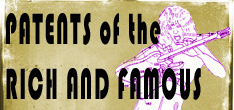 Some celebrities aren't just pretty faces. A few of them are also touched with that Yankee prowess for tinkering and invention. In this weekly series, we introduce you to the Patents of the Rich and Famous. And maybe you learn a little bit about how patent literature works along the way.
Inventor: Frank Gehry
Known For: Unlike most building designers, Gehry is a household name -- he's a starchitect. From the Guggenheim in Bilbao to his own home, the deconstructed curves of Gehry's buildings stand out. With a knack for design, Gehry has branched out into furniture construction, too. Like his buildings, his lounging creations are stylish.
Invented Apparatus:"Article of furniture or the like"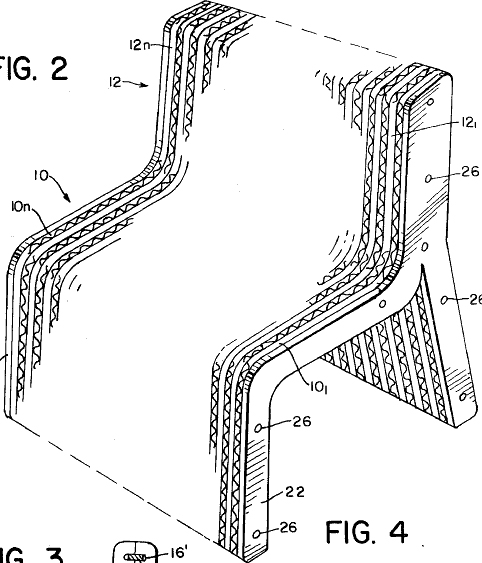 Looks just like a regular chair. Sure, it's Gehry-esque with its curvy back. But what really makes this chair special? Well, it's made of cardboard.
According to the preferred embodiment of the above mentioned US pat. Application Ser. No. 73,0005, an article of furniture is made by forming a block of cross-laminated corrugated cardboard sheets, and then simultaneously cutting all of the sheets in the block to "sculpture" the article from the block.
Gehry created a line of "Easy Edges" furniture, which contained pieces made from corrugated cardboard.
Rationale Behind Invention: As the patent describes, cardboard is cheap, sturdy and produces aesthetically interesting pieces.
The furniture produced by this technique is inexpensive yet strong and durable; moreover, a wide variety of interesting and attractive shapes can be formed. Perhaps most important from an aesthetic point of view is the unusual texture of the finished surface of the article formed by the adjacent cut edges of the cardboard sheets.
Interesting buildings deserve interesting furniture. The curvaceous cardboard creations suit Gehry's aesthetic.
Off-Label Uses: In package sending desperation, you realize you don't have an appropriate size box for your goods. In a frenzy, you grab your exacto knife and repurpose your stylish chair into a parcel for your post -- oops.
Future Directions: This chair may look cool, but it could use a few accoutrements. Like a cup holder, massager and heated seats to start.
Peruse more Celebrity Inventions.