Celebrity Invention: Bill Nye's Ballet Slipper
The jocular host of a popular science television show developed a shoe that's built to better support dancers than previous designs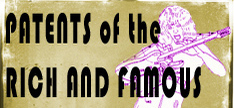 Some celebrities aren't just pretty faces. A few of them are also touched with that Yankee prowess for tinkering and invention. In this weekly series, we introduce you to the Patents of the Rich and Famous. And maybe you learn a little bit about how patent literature works along the way.
Inventor: Bill Nye
Known For: He's the science guy. As the jocular host of Bill Nye the Science Guy, he pretty much made liking learning about science cool for closet nerds.
Just look how fun Nye makes static electricity (rockin' wig of science!):
But beyond teaching and television, Nye has other aspirations: space, sundials and apparently ballet.
Invented Apparatus: "Toe shoe"
It's a ballet slipper designed to better support dancers than previous shoes:
The present invention is directed to a toe shoe, and more specifically , to a toe shoe capable of providing support to a ballet dancer's foot, toes, and ankle during en pointe dancing.
Nye improved on pointe shoes by including more support inside the toe. Specifically, it includes a 'toe box,' which would encase and protect the toes and provide support along the sole:
The toe shoe preferably includes a toe box in the toe of the toe shoe, an upper and an outer sole. Support structure within the toe shoe includes a longitudinal support member, a foot encirculating tubular sleeve, and/or a toe ridge.
Rationale Behind Invention: Ballet messes with your body -- think Natalie's feet in Black Swan. Knowing the physics of ballet dancing, Nye understand that a traditional ballet slipper only hurt the dancer's body:
General principles of physics illustrate how dancing en pointe, when performed in traditional toe shoes, creates forces that act on the body of the ballet dancer.

For example, ballet dancing involves movements of the dancer's body interspersed with motionless poses. When a ballet dander dancing en pointe is positioned in a motionless pose, the sum of all forces and torques acting on the dancer's body is approximately zero. This means that the dancer's center of gravity lies on a vertical line that passes from the dancer's body down to the area of support, which is the dancer's foot, toes, and ankle. This downwardly directed force of gravity is balanced by a force rising upward from the floor on that same vertical line. Therefore, the dancer's foot, toes, and ankle are subject to a force that is at least equal to the dancer's weight. This force may increase as the dancer accelerates from flat-footed position to an en pointe position while practicing or performing.
Nye's shoe, instead, worked with nature's forces.
Off-Label Uses: We didn't know Nye was a fetishist.
Future Directions: Most of us aren't ballerinas and, frankly, have trouble simply walking. Maybe Nye could apply these principals to shoes for us less acrobatically inclined folk.
Peruse more Celebrity Inventions.