Britain's Oldest Working TV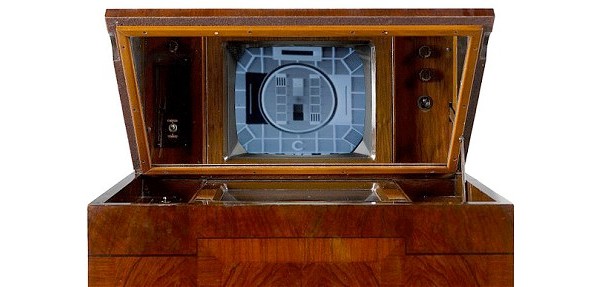 Have about $8,000 to spend? You could be the owner of this, the oldest working television in all of Britain. The machine, which was bought for £100 only three weeks after transmissions began 75 years ago, will be auctioned off April 19 at Bonhams Mechanical Music and Scientific Instruments sale in Knightsbridge, London.
Back when Mr. GB Davis of Dulwich purchased the set, which comes with a 12-inch screen beautifully encased in a walnut and mahogany shell, he would have only been able to watch programming for a couple of hours. At that time, there was only one television station and it only broadcast for one hour each day. "The nearby Crystal Palace and its transmitter burned down three days after Mr. Davis bought the Marconi type-702 set on November 26," the Telegraph reported. "The area could not receive pictures again until 1946."
When the piece is auctioned off in two weeks it could go for much more than the pre-sale estimate of £5,000. "There are more 18th century Stradivarius violins in existence than pre-war TVs and this set has only had two owners," the Telegraph notes. It's not clear why this, a television that was created using secret radar research conducted in Britain at the time, is finally being sold off. But it is, so dust off your pocketbooks.