Block Your Friends: How to Avoid All Talk of the Royal Wedding
Tomorrow, get all of your news from Twitter. And use these tips and tricks to filter any mention of Will and Kate from your personal feed.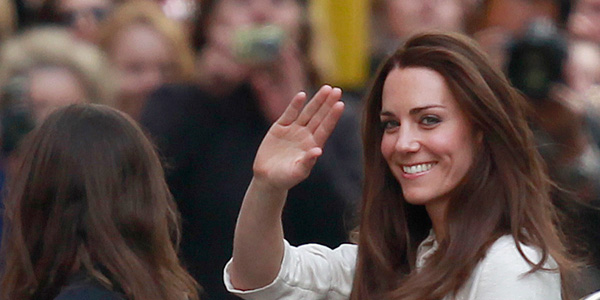 On Friday morning, Kate Middleton will wed Prince William in a ceremony that is expected to be broadcast all over the world. Hundreds of millions will tune in to see the ceremony at Westminster Abbey, which begins at 5 a.m. EST. More than 8,000 journalists are expected to report on the event and every major network in America has prepared hours of coverage. On the wedding day, for example, NBC/MSNBC will air more than 20 hours of combined anchor coverage in addition to reports from its partner in the United Kingdom, ITN. Matt Lauer, Al Roker, Meredith Vieira and the rest of the Today show personalities will report live from London, where they'll join ABC's big weapons, Barbara Walters and Diane Sawyer.
But with months (years?) of lead-up coverage, many of us have heard enough about the wedding. There's a vocal group of royal watchers that have been talking about this day since Lady Diana went through the same ceremony a generation ago. For those who have lost interest and hope to get some work done tomorrow (it is a weekday, after all), we've put together this quick guide on how to avoid all-things Kate and Will. It'll be hard -- but not impossible.
When you wake up, ignore your newspaper. Just leave it on the front step and hope that one of your neighbors swipes it to add to their growing pile of collector's editions. You'll want to avoid any major newspapers -- and their websites -- for the rest of the day. Add to that list the Big 3 television networks; executives at ABC, NBC and CBS, all in desperate need of an audience boost, have been dreaming of this day for months. Fox, too, has coverage planned for most of the day. Greta Van Susteren will be reporting live from London and correspondents at a partner network across the pond have been tasked with providing updates from the streets. Instead of relying on the traditional outlets, get your news through Twitter. Here, you can filter out all references to the royal wedding so that they never make it into your personal feed.
If you use TweetDeck, open the program and prepare it now, half a day in advance. Go to your settings and navigate to 'Global Filter.' From this page, you can add a list of words and hashtags that you want to block. The tool doesn't just cut the specified words from tweets, like a parental filter might, but removes completely tweets that contain them. Some suggestions: #RoyalWedding, #BritishMonarchy, #ClarenceHouse (@ClarenceHouse is the official royal wedding Twitter feed), Kate Middleton, Prince William, katewilliam2011 (an unofficial fan blog that has been tweeting incessantly). When the big day is over, you can visit your settings page and clear all of the keywords that you entered.
If you use Hootsuite, the process required to block certain words is similar to that for TweetDeck. At the top of a column of tweets, find the 'Filter by...' button and select. From there you'll be asked to filter by keywords or by Klout scores; you'll want to choose the former. Here, enter any words you think might be used by those you follow when they're referencing the royal wedding, but be sure to add a minus sign ("-") before each. For example, -RoyalWedding.
If you still access your Twitter account through Twitter.com, consider installing Proxlet, a Twitter API proxy that allows you to "block noisy apps, filter annoying hashtags, or temporarily mute annoying users," in real-time. Sign in tomorrow morning, confident that you've thought of every possible keyword already and, if see a Kate Middleton tweet sneak through, Proxlet lets you ban that person instantly, knocking them from your feed for whatever length of time you'd like. That should teach them.
Image: Reuters.