Mercury begat Gemini, which begat Apollo, which begat the space shuttle, which will beget ...
What?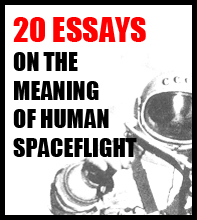 In the five decades since Yuri Gagarin's flight, and just short of five decades since Alan Shepard answered in Freedom 7 for the United States, American space policy has ranged from the clarity of Kennedy to the machinations of Nixon to the unfunded mandate of Bush II to today's program -- one that results in NASA's "meatball" logo more resembling a volleyball being hit back and forth across a political net by a Congress that sees the agency as workfare in Florida, Alabama and Texas; and by a president long on rhetoric, but short on proffered resources.
What else could explain a call for a more innovative America that is accompanied by a NASA budget that was, first, axed; then, trimmed until it is only about one-half of 1 percent of overall government spending, or $5 billion less than that of Los Angeles County?
This, for an agency and its space program that has provided some of America's finest, most unifying moments, while generating spin-off technology ranging from television satellite disks to smoke detectors to shock-absorbing football helmets to ear thermometers to medical imaging equipment to cordless tools.