Apple's Smart Move: A Store in the Historic Hotel Moskva
If Apple signs the lease, this would be the company's first retail outlet in Eastern Europe -- and it could draw in huge numbers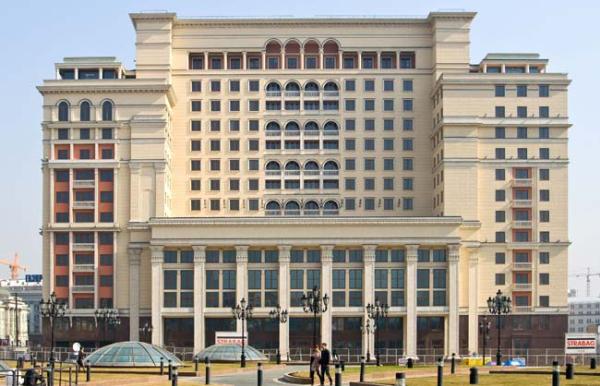 Apple is pushing eastward, continuing its steady march across the globe. Top executives from the company were recently in Moscow to finalize plans for a store that might be constructed inside of the historic Hotel Moskva. If the deal is completed, this would be the first Apple Store in Russia and could signal a commitment from the company to begin further expansions in Eastern Europe.
Just steps from the Red Square and the Kremlin, the Hotel Moskva was originally built between 1932 and 1938. You might recognize it: It's the hotel featured on the label for Stolichnaya vodka. Designed by Aleksei Viktorovich Shchusev to be one of the finest and most opulent hotels in the entire city, the original structure, complete with commissioned mosaics and art, was demolished in 2004. Construction of a replica (with underground parking and other modern features) began in 2007 -- and it's just as impressive.
The space being considered is two levels and 16,000 square-feet. A huge space that's meant to attract a similarly large number of visitors. And it very well could. ifoAppleStore, which obsessively tracks news and developments concerning Apple's retail locations, makes the case for why moving into Moscow is smart. The city "is home to 11.5 million residents which had a growing middle-class -- and potential Apple buyers -- before the 2008 global economic downturn," the site notes. "The city hosts millions of tourists each year, almost all visiting Red Square and the surrounding area where the Hotel Moskva is located." And Moscow is hoping that the 2014 Olympics in Sochi and the 2018 FIFA World Cup matches will boost already-strong revenues from tourism.
Construction on the new hotel is in its final stages. A space in the building should be ready for occupancy by early 2012 or even the very end of this year.
Image: Moscow's Hotel Moskva as it appears today.