Algorithm Finds the Hairy-Nosed Wombat Not Worth Saving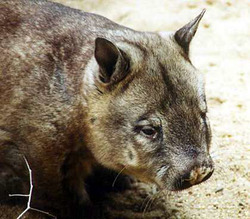 It's a bad day to be an Australian hairy-nosed wombat.
Researchers at James Cook University and the University of Adelaide have come up with a new algorithm that ranks endangered species based on how much effort should be expended in an attempt to save them. The hairy-nosed wombat, which is one of the rarest large mammals in the world even though it once roamed across almost all of Australia as recently as 100 years ago, didn't make the cut. It's the Google search approach -- except the poor wombat doesn't show up until page 10 of your results.
There's only so much money out there available for conservation efforts. And that number, whatever it might be, isn't enough to save even a fraction of the species that are currently teetering on the brink of extinction, according to Corey Bradshaw, a professor at the University of Adelaide that worked on the team that developed the new algorithm. "We wanted to come up with an index that was really based around theory that we have developed over the last 20 years about what constitutes the best chance for a species to persist over time," Bradshaw told the Australian Broadcasting Corporation (ABC).
Currently, the list maintained by the International Union for Conservation of Nature's Red List of Threatened Species ranks animals from safe to critical endangered. But Bradshaw takes issue: "A lot of those categories are based on somewhat arbitrary thresholds for how much a species has declined over a certain period of time or how much its range has contracted, and there is a lot of expert opinion so there is some subjectivity involved," he told ABC.
Bradshaw's new index is based, instead, largely on research that argues species with fewer than 5,000 members are almost impossible to save. So say goodbye to the hairy-nosed wombat and white-footed rock rats, the Javan rhino, New Zealand's kakapo and others. "[I]n some cases it is probably not worthwhile putting a lot of effort because there's just no chance," Bradshaw said. "I'd love to save everything. I just don't think we can."
Image: Wikimedia Commons.