A New Holiday to Bring Our Little Planet Closer Together
I wasn't born when Russian Cosmonaut Yuri Gagarin launched from the steppes of Kazakhstan and spent 108 minutes orbiting our beautiful home planet-- my view of space and the Russians was shaped more by the lens of '80s pop culture.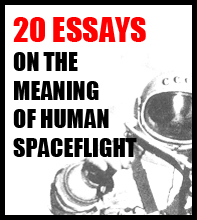 So maybe I let Star Wars, 2010: The Year We Make Contact and Sting's "If the Russians Love Their Children Too" have too big an influence on me. But something in that, "why can't we all just get along?" rhetoric from the mid-'80s really stuck with me.
When I discovered in the mid '90s that the 1st U.S. Shuttle flight took off exactly 20 years to the day after Yuri's April 12, 1961, flight I figured we needed to start a new holiday to get people thinking about how space can bring our little planet closer together. Former rival super powers were now International Space Station partners -- it only seemed right.
With the help of my now-husband George and our friends and colleagues around the world, Yuri's Night was born in the very-spacey year of 2001.
The idea took hold and our first year we had events in 69 cities around the planet, including Antarctica. Ten years later the event has grown to more than 500 events in over 70 countries, including the six astronauts and cosmonauts currently on the International Space Station.
Our idea was not to celebrate a man, but to celebrate a great achievement of humankind -- our first step away from the home planet. We imagined that thousands of years in the future when human beings are living throughout the galaxy, people would look back and remember that first tentative step away from home.
In that sense Yuri's Night is not just a celebration of the past and all of the brave space explorers who have gone before us. It is also a celebration of the future. It is a call to action to all of those who care about human spaceflight, that it is up to us to make sure that in 2061 our grandkids have even more to party about -- like humans on Mars, probes to Alpha Centauri, the investigation of thousands of Earth-like planets, and millions of people traveling peacefully in the heavens.
Now isn't that something worth breaking out your glow sticks and moon boots for?