A Leap Forward: Reaching Beyond All Reasonable Bounds
Until we first orbited the Earth fifty years ago, our only view of the surface was the view from an airplane window. The first flights of Yuri Gagarin and Alan Shepard expanded our vision -- we saw the curvature of the planet, as well as the lack of man-made boundaries.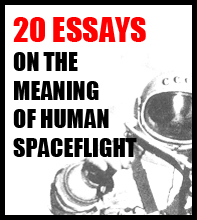 It was a leap forward, as Civilization author Kenneth Clark would call it. Clark said, "Three or four times in history, man has made a leap forward that normally would have been considered unthinkable."
We demonstrated this spirit of reaching beyond all reasonable bounds when we took the next leap, only a few years later, onto the moon. From the moon, our view of the Blue Planet penetrated our very consciousness as citizens of the Earth. Fifty years later, we have advanced from a single orbit around the Earth to a permanent human presence on orbit, living and working on the International Space Station.
Human beings have always been explorers. Adventuring into the unknown challenges us to learn and grow. Having a vision, and the potential to realize that vision, keeps us alive and confident.
As one of a small group of people who have had the opportunity to orbit the Earth on the Space Shuttle, I can personally say that going into space takes a little courage, as well as a great deal of trust in the technology and the people who make the technology work. But my experience was built on the history of others who went before me, and a record of successful missions.
Yuri Gagarin and Alan Shepard were the true space explorers. From opposite ends of the Earth, they had the courage to trust their nations' newly minted launch systems and engineers. They took the leap forward into the untested concept of manned spaceflight, leading the way. I salute their achievements.