5 Things You Can Tell From the Words I've Taught My iPhone
Looking for self-knowledge in the custom dictionary of words that I have unintentionally been training my smartphone to recognize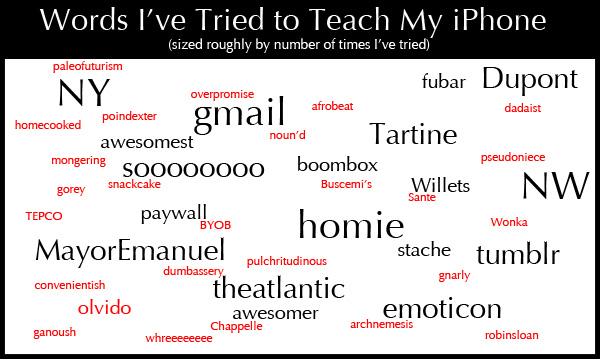 The words we use really can define you, particularly when you're looking at 1,350 of them that you've tried to teach your phone. As part of my reporting on mobile phone forensics, I got a peek at the custom dictionary in my iPhone.
As a writer, I figured there would be deep lessons about the words I use, but it turns out that most of what you can learn from my dictionary is funny, but not deep. What was there, though, was really obvious. Without too much difficulty you could deduce:
1. I'm a Twitter user. There are many, many Twitter user names in my custom dictionary from MayorEmanuel to Rolling Stone's doreeshafrir to Twitter's robinsloan.
2. I use awesome and its variants too often. You will find awesome, awesomer and awesomest in my custom dictionary. (Also: yesss, yessssss and yesyesyes.)
3. I am a suffix lover. Here's just a sampling of the words I've bent to my will: dumbassery, convenientish, boutiquey, boringness, homeish, nowish, thinktanky.
4. I write text messages in Spanish sometimes. There are probably a hundred Spanish words in the dictionary from anoche to tiene.
5. Hidden in the proper nouns of my dictionary, you could find the names of most of my closest friends. You could easily guess that I live in Washington, D.C. And you'd also find three employers, my favorite bourbon, my hometown, my university, my favorite novel and my favorite bar tucked in there.
My iPhone's dictionary doesn't make total sense to me. For example, it's got duplicates, which isn't exactly how most dictionaries work. It's also hard to tell exactly what some of the data columns mean. So, I'd be very curious to see someone else's dictionary. I'm not quite ready to put mine on the Internet for public consumption, but I'd happily exchange quid pro quo with someone. Feel free to get in touch.
THE MOBILE PRIVACY SERIES
Image: I believe one of the columns in my data denotes how often I've corrected my phone about a particular thing, so I've sized the words accordingly. Take that as a provisional understanding. This graphic represents an unscientific sample of the words in my dictionary, and I made the smallest words red for some visual pop. It's just for fun.