Why We Need Constant Air Traffic Vigilance
by Don Brown
Before I scare you to death, I want to put forth a few soothing words of rational thought.  Look at this headline from USA Today: "No U.S. airline fatalities in 2010."
U.S. airlines did not have a single fatality last year. It was the third time in the past four years there were no deaths, continuing a dramatic trend toward safer skies.
That, my friends, is an extraordinary achievement. It truly is. I don't know of anyone that has ever argued with the premise that the modern U.S. airline system is the safest mode of transportation ever devised by man. Pick your superlative. It is almost unbelievable.  And yet,  there it is. The entire aviation community is justifiably proud of that accomplishment.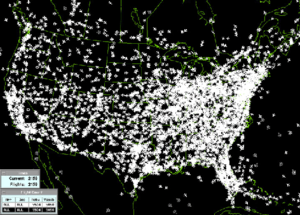 But don't kid yourself.
This is from a press release issued by the NTSB on September 23rd of 2010 -- our "safest" year ever.
The National Transportation Safety Board is investigating a near midair collision between a commercial jetliner and a small cargo aircraft that came within an estimated 50 to 100 feet of colliding near the Minneapolis-St. Paul Airport (MSP).
It's worse than it sounds (no pun intended).  It happened while the airplanes were in a cloud.
The pilot responded, "okay we just had a we just we heard the guy go by."
For the non-aviation folks that would like to know more about this incident, I'd recommend this piece from Bob Collins at Minnesota Public Radio.  For those that want to read all the geek-speak, you can find the NTSB full narrative here.
What a difference 50 feet makes.  You can imagine the difference it would make in the headlines so I won't make this thought any more gruesome than it already is.
I am proud to have been part of a system that is so safe.  I don't hesitate to put my family or myself on a commercial airliner.  But don't ever let anybody use this fantastic safety record as an excuse to lessen our vigilance.  The wolf is always at the door.  And he is very, very real.  While these types of incidents are rare, they aren't rare enough.
Don Brown was an air traffic controller at Atlanta Center, the busiest air traffic control facility in the world, for 25 years. During that time he was also the Facility Safety Representative for the National Air Traffic Controllers Association.