Which Provider Has the Fastest 4G Network?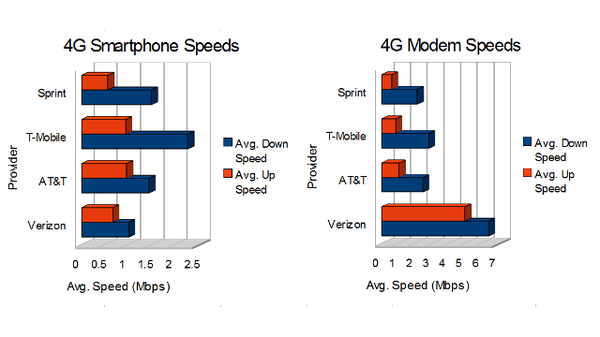 For all of the iPhone owners out there who have been so frustrated with AT&T's service that they considered jumping to Verizon after it was announced that the competing provider would offer contracts for Apple devices: Think again. (And for those who have already switched: You should probably stop reading right here.) Each of the four major providers shown above -- AT&T and Verizon, but also T-Mobile and Sprint -- claim to offer a certain 4G network average speed, but how did they hold up when PC World put them all to the test?

T-Mobile ended up being the fastest on the smartphone end with 2.28 Mbps down, while Verison came in last at less than half that. As far as USB modems went, it was very different: Verizon had by far the fastest speeds, hitting about 6.44 Mbps down and 5 Mbps up, while Sprint came in last--albeit close to T-Mobile and AT&T--at a bit more than 2 Mbps down and less than 1 Mbps up.

For both sets of devices, they tested the connections in 260 different locations across 13 different US cities, so they were pretty exhaustive, giving us confidence in the results. Of course, there are a lot of other reasons to choose a given network, but these speeds may give you something else to think about as you inch closer to buying that new 4G phone.
Read the full story at Lifehacker.