Making Room for Blossoms and Monuments
As a part of a project for an exhibition about the Civil War titled "So Much Need of Service": The Diary of a Civil War Nurse, I had the opportunity to look at an antebellum map of Washington, D.C., seen in detail below.
Looking at the map, most of the streets followed Pierre L'Enfant's layout for the Capital City. However, the National Mall was quite different with fewer buildings, more trees and a canal running through it. What really caught my eye though was the part of the city west of the Washington Monument -- or rather its absence. The land where the Lincoln, Jefferson, Vietnam and Martin Luther King, Jr., memorials now stand did not exist until 1890. There were no blossoming cherry trees and no Tidal Basin. I wondered, how and why did the land get there? Here's what I found out.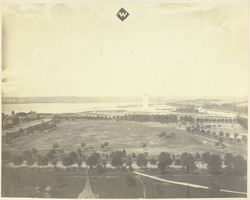 When Washington, D.C., was initially designed, the land currently known as West and East Potomac Park was a tidal wetland known as the Potomac Flats. In an 1863 panoramic photograph (at right) taken from the Smithsonian Castle tower showing the western view, the Potomac Flats can be seen beyond the incomplete Washington Monument (completed in 1885).
The Washington Canal, which incorporated part of Tiber Creek, ran along the north edge of the National Mall (now Constitution Avenue) connecting the Capitol with the Potomac River. The canal is clearly visible along the right side of the photo (below), taken from the Capitol during the Civil War. Sewage was dumped into the canal and flowed to the river onto the flats just south of the White House grounds. Because sewage accumulated on the flats as opposed to draining out to the river, the area became extremely filthy, had a foul stench and became a breeding ground of disease. While officials debated whether action should be taken to correct this health hazard, the final straw came in February 1881 when a huge snowfall melted causing the Potomac to flood across the Mall to the National Botanical Gardens at the base of the Capitol.