On August 31, 1894, two young men rolled their new electric car onto what passed for a road in Philadelphia. It would have been hot and sticky outside, a Friday at the end of a long summer that had seen an intense heat wave suffocate the city for most of July. Piles of manure would have dotted the stones.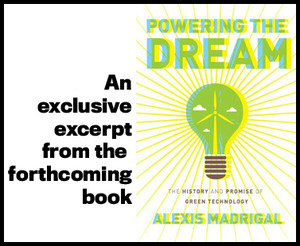 As the two men began their slow ride, people must have stared. Horses must have balked. It was almost undoubtedly the only car in the city. Credit for the first American electric vehicle is generally given to Boston's Philip W. Pratt for his lithe three hundred-pound tricycle, but this new vehicle was one of the very first automobiles in the world. Even eleven years later, only five hundred cars were registered in the city.1 Pedro Salom, a chemist, and Henry Morris, an inventor, had built their new ride in only two months. As much tank as carriage, the Electrobat, as they called it, weighed 4,400 pounds and was powered by an adapted ship motor. Its designers freely admitted that the vehicle was not designed for "an attractive appearance to a carriage builder's eye." Instead, they built the vehicle rugged because they wanted it to stand up to the rough city roads--not at all smooth like the roads of today--and they happened to need a place to put 1,600 pounds of lead-acid batteries.
The first version of the Electrobat, on which they glided through the streets of Philadelphia that fall and winter, looks like an uncovered wagon, complete with the spoked wheels--big ones in back, small ones up front. Two could comfortably sit atop the battery compartment, which housed the monster lead-acid cells, but it could have carried up to a dozen people. It gives the impression of a stagecoach missing both the horses and the coach, but it got the job done. It had a maximum range of fifty to one hundred miles and traveled hundreds of miles in its few months of testing, if Salom is to be believed. Its successor, the Electrobat 2, weighed closer to 1,800 pounds and packed a couple hundred pounds of batteries. It looked like a box on wheels, and a conductor sitting in the middle of the front of the car drove it with a steering stick. This automobile was the one that would propel Morris and Salom into history.