Tech in Lyrics: Notorious B.I.G. on Bill Shock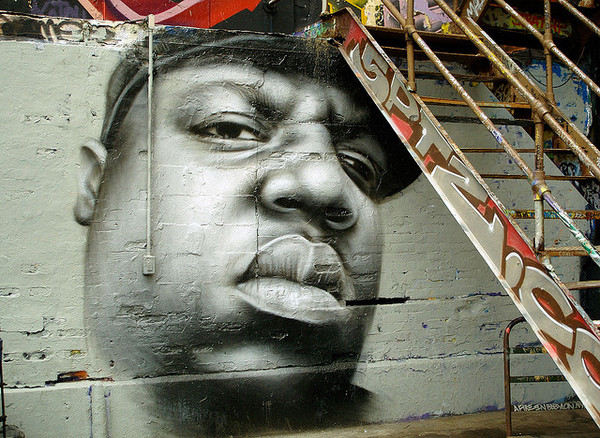 It was 14 years ago that Christopher Wallace was gunned down, ending his brilliant but short rapping career as the Notorious B.I.G.
Unlike James Brown, Biggie's relationship to technology in his lyrics is simple. For Biggie, the possession of technology is important only because it shows his ability to spend money on it. It is jewelry with a bit of functionality. Here's the beginning of his third verse from "Juicy."
Super Nintendo, Sega Genesis
When I was dead broke, man I couldn't picture this
50 inch screen, money green leather sofa
Got two rides, a limousine with a chauffeur
Phone bill about two G's flat
No need to worry, my accountant handles that
The first line here is interesting. "Super Nintendo, Sega Genesis" has great rhythm. Sometimes, those four words alone will get stuck in my head. But it's essentially a throat-clearing mechanism, a hanging reference. So the line I like best is "Phone bill about two G's flat" because it thoroughly dates this song to a time when cell (see below) phone bills could become inflated to preposterous levels.
In fact, it was precisely this "bill shock" problem that the FCC tried to address last year. The other way to eliminate bill shock, as Biggie notes, is to get really rich and assign bill paying to an accountant.
Update 5:19pm: Zach Seward notes that Notorious B.I.G. could have been referring to landline bill shock, or even pager bill shock. And digging back, he may be right. In 1994, this government report pegged the number of wireless phone subscribers at 16 million. Was Biggie among them? Maybe, maybe not. In any case, bill shock predates the cell phone. Also, it's a little bit mindblowing that in 1994, it's likely that even a wealthy guy like B.I.G. didn't have a cell phone, but 10 years later, they'd be nearly ubiquitous in the middle class.

Vew more Tech in Lyrics.
Image: seretuaaccidente/Flickr.