Sheen Profiteering Not Just a Twitter Thing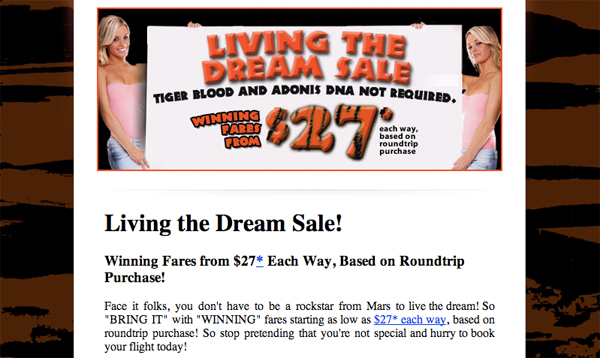 We've reported on the companies that are cashing in on Charlie Sheen mania on Twitter, but corporate marketing schemers aren't confining their efforts to the short messaging service. Spirit Airlines, for one, is using Sheen's themes in its latest e-mail blast advertising the "Living the Dream Sale: Tiger Blood and Adonis DNA Not Required."
Spirit, as Jezebel's Irin Carmon pointed out on Twitter, has a history of tasteless e-mail bombs, including plays on the oil spill and (really?!) muff diving. For shame!
I'm cataloging all these for you because I think this is a fascinating marketing story. All these companies are trying to figure out how close they can get to the Charlie Sheen flame (err, jet fighter) without getting burned. Notice that this Spirit Airlines ad doesn't even mention the name Charlie Sheen but merely drops his memetic gifts into its language.
It's another version of buying the promoted tweet for the hashtag #Winning on Twitter and then running an ad on it that doesn't reference Sheen at all. All the brand association for a self-selecting audience, none of the risk that you look awful when Sheen is committed or does something heinous. In corporate speak, that's a win-win! In Madrigal speak, it's cowardly and parasitic.