New Location-Based Photo App Not Built for America
A new photosharing app launched for iOS and Android today called Color, claiming that it "reinvents community."
How so? Instead of sharing your photos with people you've chosen to connect with, the app pushes your photos to anyone within a couple hundred feet of where you're standing.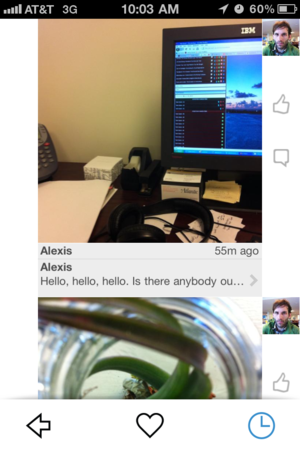 Privacy concerns aside (because really, what private person is using public photosharing apps?), the problem is to "reinvent community" with a location-based app, you'd need a dense community there in the first place. And most Americans don't live (or work) in the kinds of dense, photogenic places where this kind of app would make sense.
In my Twitter stream, David Gallagher, deputy tech editor at the New York Times, summed up the Color user-experience best, "So far on Color, neighbor Chris has shot his beige carpet."
Welcome to American office design! Up next, artsy photos of bathroom paper towel dispensers. After that, shots and shots of Arby's chicken fingers and cocktails at Applebee's.
I'm not saying that Color won't work in some places. The user interface is slick, if not as intuitive as you might hope. Color might work great if the United States was filled with dense, walkable neighborhoods where people live and work, but those places are few and far between. If you want to see where Color might work, I'd start with this list of the country's most walkable cities.
One could see this as an excellent flirting/status-securing mechanism on high school and college campuses, too. Perhaps the Williamsburg or Mission Dolores streams will be packed with gorgeous and interesting photos and people. And maybe that's all Color needs: a few anchor locations to prove the model could work. But the $41 million in funding the company's taken and the bombast of its launch outreach says to me that they're after something bigger than a strong community in Portland's Pearl District.
And here in Foggy Bottom in Washington, D.C., there's nothing going on with Color. It's empty. If that's your first experience with this app, expect a lot of people to stop using it immediately. That's what happened to me with another photosharing app, Path. I liked it for a while, but then it started to seem pointless.
Instagram, my preferred photosharing app, has filters built in that provide some value to you, even if you're not connected into a network of friends. If there's no one around on Color, there's no point to the app.
I'll be keeping my eye on Color, but for anthropological reasons more than anything else. One can imagine all kinds of strange interactions resulting from its widespread use in some location. As an investment, though, this may be a case of buzzphrase (location-based, photosharing) mashup gone wrong.
But go ahead, kids, surprise us.