MacBook Air Becomes Apple's Best-Selling Notebook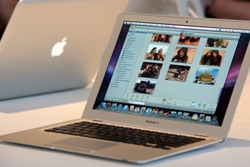 The numbers are out and Apple is celebrating sales of 2.9 million notebook computers in the quarter ending December 2010. Because Apple doesn't release sales numbers for individual products, it's unclear how they reached that figure; notebooks sold by the company in that period include the MacBook Air, MacBook and MacBook Pro. But at least one analyst believes the new MacBook Air model was the driving force behind a successful quarter.
First released back in January 2008, the MacBook Air went through an overhaul in October 2010, making this quarter the new model's first on the shelves. Concord Securities analyst Ming-Chi Kuo predicted, back in October, that the new model would move about 700,000 units over the course of three months. But it appears that the MacBook Air was far more popular than anybody anticipated -- even Kuo. Kuo recently told AppleInsider that "his most recent checks in Asia indicate Apple shipped a total of 1.1 million of its 11- and 13-inch MacBook Airs during the three-month period ending December, making the new breed of ultra-thin portables one of the company's most successful Mac product launches ever."
That figure, which is 63 percent higher than Kuo initially predicted, accounts for roughly 40 percent of Apple's notebook business and could make the sleek, lightweight model the best-selling Mac notebook on the market. And it doesn't even have an optical drive! Are consumers willing to move away from the traditional laptop form and embrace notebooks and tablets that rely more and more with each release that we're seeing on the cloud?
Sales of the MacBook Air have reportedly remained strong, but have dropped off slightly from last quarter's figures (700,000 units sold so far this year). But that's to be expected. There's always a spike in sales when Apple launches a new product. And the ever-growing tablet market could be eating into notebook sales. Apple ramped up production -- thanks, presumably, to sales projections for the new line of MacBook Pros introduced just two weeks ago -- and will close the current quarter, which comes to an end when March moves into April, having built 4.5 million Mac systems.
Image: Kimberly White/Reuters.