Jason Kottke Launches Stellar, a New Social Bookmarking Site
Open now to only a handful of users, Stellar could become a hit if Kottke can figure out how to make it complement existing services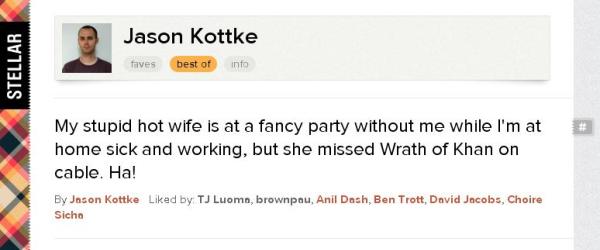 Playing around on Twitter, I came across @yo_stellar, the handle for Jason Kottke's latest project. Intrigued, I followed a link back to his blog where Kottke, a former web designer who has been blogging at Kottke.org since 1998, explained the basics behind Stellar, a new web app/site designed to help you "discover and keep track of your favorite things online." A combination of the best that other social media platforms offer, the app is a way of aggregating your favorite things online and sharing them with others. While Kottke is still working on some bugs and invitations are limited (there are only a few dozen people using it right now) he did post links to the pages of some current users. I contacted him to find out more, but because the project is small and still a bit fluid, he referred me back to the original post.
I anxiously await my invite -- I'm not one of the lucky few with access -- but in the meantime I took a look at some of the sample, or "fave" pages, Kottke posted to get a sense of the project. From what I could tell, they look very similar to a Twitter feed and essentially serve a similar function. It's a place to collect text, pictures or videos that you enjoyed in one place and share them with others. Unlike Twitter, where tweets can only link to images, Stellar shows everything on the page, similar to a Tumblr dashboard. Also like Tumblr, under each fave-ed post there is the source of the original and links to other users who liked it.
In addition, Stellar has a "best of" page where you can see a user's posts that were most liked by others -- kind of like the most e-mailed section on the New York Times or any other major media website. I like the idea of highlighting posts that others enjoyed: It's a good way of keeping track of how highly people value your opinion.
The last page to look at is the "info" page which conveniently doesn't display a bio. Instead, it provides links to other social media sites that the user has accounts on -- Flickr, YouTube and Vimeo, for example -- confirming the idea that if you don't have a web presence you might as well not exist.
Stellar isn't the first social media aggregator. There are many others -- consider everything from OrSiSo to TweetDeck, both of which allow users to access and update their statuses on networks like Facebook, Twitter and LinkedIn -- but most require multiple, and often confusing, columns and tabs. Not a fan of the clutter and constant pop-up notifications, I use, instead, Mozilla's Flock.com, a web browser with a sidebar that streams updates in real time. I prefer Flock because everything is blended into one feed and I can monitor updates while I'm working.
Yet all of these options differ from Stellar in that they only benefit you in real time and aren't helpful a few days, or even hours, later. Stellar is unique in that it doesn't post everything. Rather, it seems like you pick and choose what you like best -- a more selective group of your thoughts, critiques and images.
While I wait for my invite, I'm curious to see how Stellar develops and distinguishes itself from the social media sites that it is essentially aggregating. For example, I'd love to see it link to apps like Instapaper so that others can see what you're reading. I also wonder how Stellar will build a community: Will your Twitter followers automatically follow you to Stellar or will you have to create a new collection of friends? Most importantly, what does Stellar provide that Twitter and Tumblr don't? It seems like Stellar is meant to be used in tandem with these platforms and to amplify the experience of using them, but what remains to be seen is whether it helps the experience or just adds another platform on which to express yourself.
MORE ON STELLAR: