Iran Unveils Flying Saucer Using Old B-Movie Stock Photo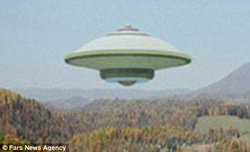 I'm starting it right here: TG;HTB -- Too good; had to blog (I know, it needs some work). But look at this: The image seen at right is the image that actually accompanied a press release sent out by the Fars News Agency, a state-run news service. "Iran unveiled a home-made unmanned flying saucer as well as a light sports aircraft in an exhibition of strategic technologies," the release opened.

Zohal, as the saucer has been named -- Persian for Saturn -- "can be used for various missions, specially for aerial imaging," according to the release. The country clearly considers it an important development: Zohal was unveiled at a ceremony attended by Supreme Leader of the Islamic Revolution Ayatollah Seyed Ali Khamenei. No word, though, on why it looks like something out of an old sci-fi movie. If you look closely, you can almost see Richard Dreyfuss standing among the trees.
The saucer, which Fars claims was designed and developed by the Iranian Aviation and Space Industries Association (IASIA) and the Farnas Aerospace Company, "is equipped with an auto-pilot system, GPS (Global Positioning System) and two separate imaging systems with full HD 10 mega-pixel picture quality and is able to take and send images simultaneously." All of those features could comfortable fit inside something the size of a shoebox -- with room leftover for a nice pair of shoes.
H/T Popular Science.