iPhone Gives Indie Game Developers New Hope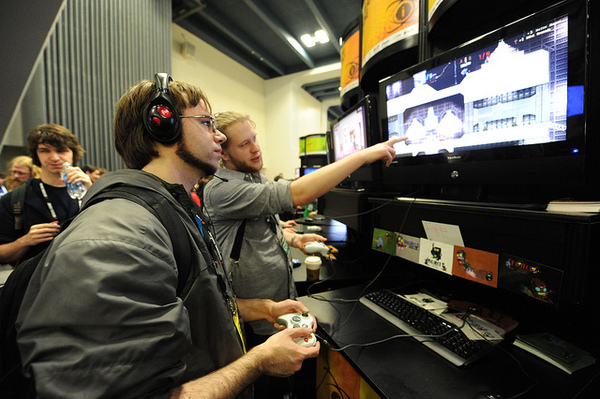 SAN FRANCISCO -- With the phrase "video game convention," which has become more common as the industry expands, comes an expectation of fans geeking out on games. Arcade classics, Nintendo favorites, modern hits and even sneak previews fill the halls of modern game expos, all with joysticks and controllers at the ready.
The Game Developers Conference isn't like that.
At San Francisco's downtown convention center last week, over 19,000 attendees looked at the world's fastest-growing hobby through a different prism. In one hall, dozens of basement coders huddled around tables to test each other's unfinished iPhone apps. In the neighboring exhibition hall, representatives from Sony and Nintendo looked quizzically at a politically charged video game starring kittens and British oil tycoons. Upstairs, a thousand-strong crowd listened to philosophical treatises about whether the Facebook smash Farmville should be called a "game."
All par for the 25th edition of the GDC, where an international crowd of coders, artists and designers obsessed over the fun of games for five full days. "Our audience is [game] developers," said GDC director Meggan Scavvio, "and that's it. Period." In that sense, the show doesn't deliver de facto fun, nor does it attempt to. But that mission statement belies the GDC's most interesting revelation: As games expand to social networks, smartphones, and even real life, the concept of a game "developer" is more fluid than ever.
Take Jane McGonigal, a game maker whose recent book Reality is Broken loudly proclaims gaming's "positive impact." She could be found all over GDC talking about the increasingly blurred line between games, education, and social reform, particularly when she announced a "live game" set to launch within the New York Public Library on May 20.
"The definition of 'game developer' is expanding to people who are taking seriously the power of games," McGonigal said in an interview with The Atlantic. "They don't just entertain but also teach, inspire or get people to take action." A panel the prior day showcased a game that teaches children how to avoid malaria -- and works on rudimentary game systems so that third-world countries can actually play it. And in one of McGonigal's most successful social networking games, titled EVOKE, players create real-life small business plans, then document them with photos, videos and online collaboration with other players. Kinda like Farmville, only real.
Farmville was the hottest topic -- and often punchline -- throughout GDC, mostly because the game's creators, Zynga, were royalty at the show. The most interesting of Zynga's panels, titled "Designing Games for the 43-Year-Old Woman," laid out a psychological profile of the so-called average Farmville player, along with game-making concepts that would honestly improve games for all player types, such as eliminating complicated buttons and letting players create their own play schedules. Some of the game design tips were a bit audience-specific, of course: "Pour her a proverbial glass of wine. Be charming [with your game]. Be George Clooney!"
You couldn't miss the makers of Angry Birds, either (mostly because the Finnish game company Rovio dressed its staffers in bright-red Angry Bird hooded sweatshirts). Rovio chief Peter Vesterbacka, who called himself the company's "mighty eagle," had another take on the changing face of game developers: access to cell phone stores. "[In past years,] mobile providers decided on our behalf what games to put out," he said. "It's like our neighbor in Russia. Apple changed this with the iPhone."
Same with other platforms, really. From Android to Xbox Live to downloadable computer games, the notion that an "indie" video game could break out as a smash hit pervaded the show floor. The two-man team behind last year's smash throwback hit, Super Meat Boy, commanded huge crowds and rock-star level applause at its GDC panel, and the guys upheld their reputation by taking digs at games companies like Sony and Microsoft. Another indie sensation, Markus "Notch" Persson, won a combined five trophies at GDC's awards ceremonies for Minecraft, a downloadable game that he hasn't even finished coding. At the awards, the Swede took the stage in official programmer gear -- a black duster and black hat -- and held his fifth statuette in the air, asserting with a thick accent, "Go indies!" In that sense, GDC is the rare games show whose small-fry content can outshine the likes of Call of Duty. To be fair, CoD publishers Activision, and other big companies, attracted a long line of hopeful developer applicants at booths on the show floor, but most booths and panels focused on enabling smaller game makers: helping them get funding, digging through game philosophies to attract new players, making money from $1 apps by treating games as a perpetual service rather than a one-time transaction, and so on.
If you looked hard enough, you could find the next big game tucked into the GDC ruckus, from the delightful 8-bit fencing adventure Nidhogg to the iPad combat game Shot Shot Shoot to the bizarre, college-developed Octodad. It's no secret: GDC is a breeding ground for indie hits. "What you see at GDC is what you're going to be playing in 3-5 years," president Meggan Scavvio says. "You're looking at the future of video games here."
Perhaps the most interesting panel about future games came from a timeless attendee: Toru Iwatani, the father of Pac-Man. His panel was meant to tell the story of his '80s classic, but the story he told seemed to ring true for the way modern Wii and smartphone games have invigorated a new audience of games fans. He created a game with clear objectives, simple controls, memorable characters, smart programming and enjoyable feedback, and he commanded modern game makers to do the same. Even through a translator, Iwatani-san's message to developers rang true: "Everyone can have fun with Pac-Man. It's like a social network!"
Image: Game Developers Conference.